In 2012, TechStars, the global startup accelerator group founded by David Cohen and Brad Feld in Boulder, Colo., came to San Antonio with its first themed accelerator program: Cloud. It was hosted at Geekdom, the collaborative workspace for the tech savvy. TechStars Cloud came out of the gate with a dynamic group of startups including Cloudability, Conductrics, Distil, Emergent One, TempoDB and Vidmaker. This inaugural group of cloud-based startups was a hard act to follow for the 2013 class at TechStars Cloud…but that didn't stop them from stepping out of the shadow of such stiff competition and into their own cloud spotlights.
Veteran startup guru Jason Seats, Managing Director of TechStars Cloud, was back for his second season and was extremely excited to showcase his group of 12 entrepreneurial companies that presented their ideas to a packed house at the Charline McCombs Empire Theater. As Seats has told us before, the secret sauce to the TechStars program is, "Mentorship – that's what this program is all about." And in his TechStars Cloud Demo Day 2013 introduction at the Empire Theater, Seats exclaimed, "We take our mentor relationships pretty seriously. It's not unusual for there to be lifelong relationships between mentors and teams."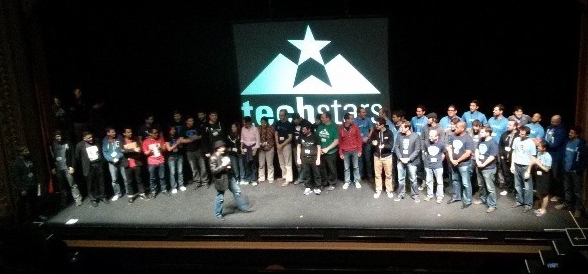 And here is the TechStars Cloud Class of 2013:
Cloud Options – allows you to pre-book future cloud usage, securing lower prices on payment terms that suit you. Cloud customers can now accurately budget for planned usage.
conspire – analyzes email data to understand the strength of your connections, allowing you to find the strongest path in your extended network to reach anyone you need to talk to.
DataRobot – an app for building the most accurate predictive models. It's a "model search engine" that finds the best possible modeling algorithm for a given modeling problem.
drifty – makes cloud-based HTML5 development tools that let anyone easily create cross-platform mobile apps and websites with products Codiqa and Jetstrap.
Good.co – helps people who aspire for greater meaning in their careers. Users can discover their unique personality mix, see how they fit with peers and teams and thrive in their current job or find a better fit.
parlevel – provides intelligent solutions for the vending industry, with devices and powerful web-based management systems that give vending machine operators full control of their business to maximize profits.
Postmaster – a SaaS API for shipping that makes integration with UPS, FedEx and USPS easy for ecommerce businesses. They can integrate a robust logistical pipeline that saves them time and money on shipping.
Skit! – with this app, anyone can use their latest photos, Facebook friends or quick drawings to share an impressive animated story.
threat stack – a security platform that provides a simple and affordable way for businesses to monitor their computers and networks for threats and respond to incidents.
TrueAbility – a technical assessment tool that allows IT professionals to demonstrate their skills in a simulated environment.
ZeroVM – is a cloud hypervisor that advances virtualization with three game-changing concepts: process level virtualization, converged cloud storage plus compute and hyper-elasticity.
ziptask – designed from the ground up as a virtual project manager for reliable outsourced work.
Are you an entrepreneur with the next big idea in cloud computing? If so, the Rackspace Startup Program can help you in launch your business and provide a world class open cloud computing platform powered by Rackspace and backed by with Fanatical Support™. Just talk with the Space Cowboys!