The Rackspace Cloud Files team is pleased to announce support for CNAMEs for CDN enabled content.  CNAME records are used to map your long and ugly CDN URLs (e.g. c012345.r00.s34.rackcdn.com) to something shorter, branded, and exactly what you want (e.g. product.megan.com).
Our customers have been asking us for this feature and we're thrilled to finally offer it.   Our partnership with Akamai has once again demonstrated it's momentum. In just the first few months of our working together, we have released:
•    CNAMES – Seamless integration of Cloud Files content into customer's branded Web site URLs.
•    Edge Purge – Allows customers to quickly edit or delete content on the edge server
•    HTTP Compression – Simple, cost saving process allowing compressed objects to be downloaded more quickly
•    SSL Delivery – Or https, encrypts customer's data in transit as it goes through the CDN, allowing content to remain encrypted all the way from the origin servers out to the browser
•    Container MetaData – Metadata can be attached to objects and now containers in order to categorize them and mark them with any sort of data
•    Large File Support – Allows customers to use multipart uploads so now companies can store videos, HD movies, very large backup files, etc.
•    Extended TTL– TTL or Time to Live has increased from 72 hours to 50 years!
Creating CNAMEs is easy. We've created a simple process where you can create CNAMEs by simply using your DNS management tool to CNAME your Cloud Files CDN URL to whatever domain name you wish (and own).
For example:

You can find your CDN URL by doing a post on your object via the API or looking in your control panel (see below).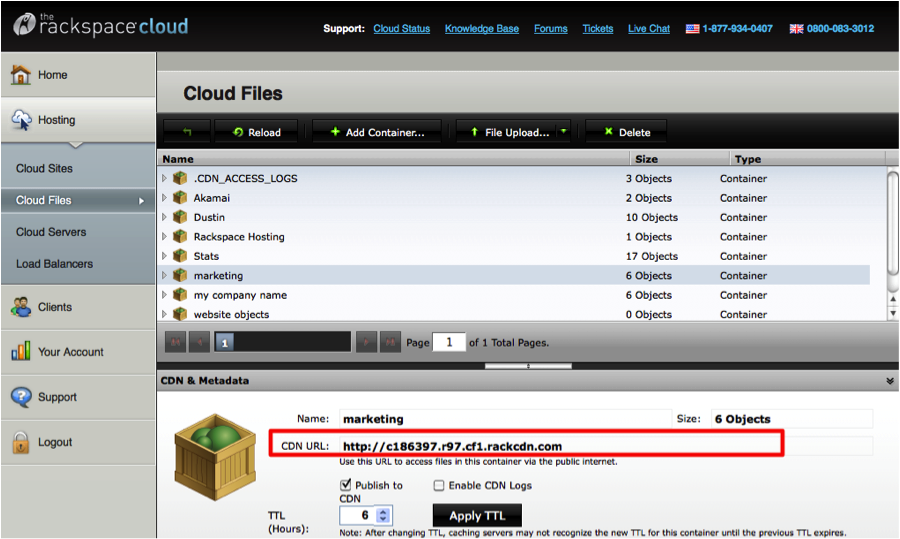 For more specifics, please see our knowledge base article here. And, if you have any questions about his feature, I am happy to answer – shoot me an email at megan.wohlford@rackspace.com