It's great to get recognized in whatever industry your company is in, and at Rackspace, we want to be the leader in hosting and cloud computing.  One of the many places that track the cloud race is jackofallclouds.com, which started tracking websites hosted on the top cloud providers back in July 2009.
In a recent post,  jackofallclouds.com had a snapshot of the top 500,000 sites hosted by the top cloud providers.  Rackspace Cloud Servers has been gaining on Amazon EC2 for some time and as of this month, it is truly neck-and-neck.  Amazon EC2 is at 3,674 sites and Rackspace is at 3,662 sites.  Third place was more than 50% behind Rackspace and Amazon.  The graph points out a tight run between Rackspace and Amazon to be the top cloud host provider.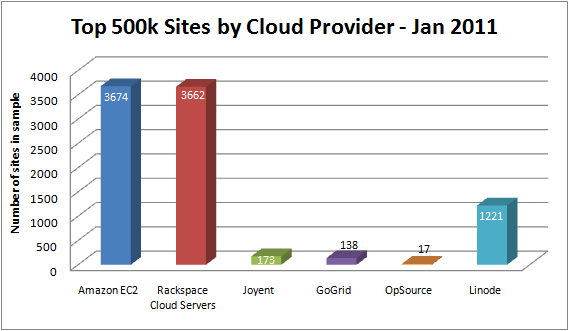 Indeed, the article goes on to say,
"Rackspace's numbers look better than ever – they can be proud to be just a hair away from the top spot. For all intents and purposes, in this survey Amazon EC2 and the Rackspace Cloud are tied at first place."
While no one likes to be second place, we consider this a big win for Rackspace.  It's also worth noting that Jack of all Clouds's numbers do not include Rackspace Cloud Sites or websites hosted on our dedicated servers.
Rackspace is becoming the company to turn to for mission critical cloud hosting, and it shows: more companies are choosing Rackspace Cloud Servers to host their websites . We are proud to be doing so well against Amazon, a great company that we respect.  We'll keep watching Jack of all Clouds in the coming months to see what happens.