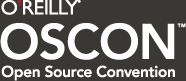 We will be at the O'Reilly OSCON Open Source Convention 2009 in San Jose, California this week, July 20-24th, at the San Jose Convention Center. In it's 11th year, OSCON is bringing together "over 3,000 experts, visionaries, and hackers in the trenches to explore all that open source has to offer."
Our very own Erik Carlin will be speaking about the "Power of Cloud API's" and will be joined by Alex Polvi from Cloudkick and Michael Mayo (http://overhrd.com/). Both Alex and Michael have utilized our API which was released last week. Cloudkick, as mentioned in a previous post, now supports The Rackspace Cloud and Michael Mayo developed an iPhone app that helps you manage Cloud servers and Cloud files in your Rackspace Cloud account.
If you are going to be in the Bay Area, you should catch us at the conference. In addition to the presentation, Erik will also be announcing…stay tuned for details….(we can't give it away yet!).  Here are the details of the presentation:
---
"Power of Cloud API's"
4:30pm, Wednesday July 22nd, 2009
Meeting Room C3
Or come visit us at booth 107 to ask questions.
---
We plan on having a Tweetup and will be tweeting about it from
@rackcloud
. Make sure to follow for continuous updates. If you plan to attend the Tweetup, use the official hashtags
#oscon
and
#cloudup
.
(Won't be able to make it to the conference? Don't worry! We will post a recap later this week so come back and visit our blog for the details.)
Finally, if you missed the coverage regarding the launch of our API, check out our previous post or read the press releases listed below:
Business Wire – "The Rackspace Cloud Announces Public API for Cloud Servers"
GigaOM – "Rackspace Opens Up Its Cloud for All"
Redmonk – "Rackspace Cloud API & "Open Clouds" – Brief Note"
eWeek – "Rackspace Releases New Public API for Development"
ZDnet – "Rackspace takes open source approach with release of Cloud Servers API"