Last week, OSCON brought together people in the open source community from around the world. While attendees heard experts talk about their respective languages and projects, I noticed several overall trends that emerged throughout the conference.
Getting Your OSS Project Licensed
Some developers think that simply placing their software in a public repository enables others to use it as open source. However, many people at OSCON stressed the need of providing a license to provide guidelines on how exactly people can use it, rather than believing that the software is in the public domain.
"The public domain is problematic, because there is really not a lot of legal precedence or machinery to take something that is copyrighted, something that you create, and to give up your rights to it and put it in the public domain," Tom Preston-Werner of GitHub said. "To just give your copyright away to someone, to remove copyright from the equation is very hard, in this country and in most countries."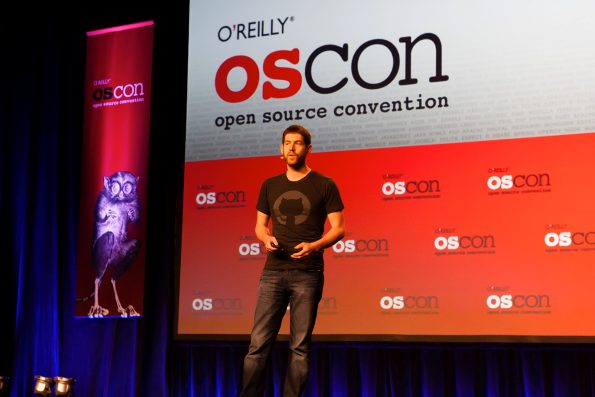 Developers were encouraged to go to www.choosealicense.org and select an open source software license for their code. The site provides explanations for developers wanting a simple and permissive license, suggestions if they are concerned about patents and a license for those who want to ensure improvements are shared.
Hacking Hardware
Open source doesn't necessarily stop at software; one recurring theme revolved around making hardware hacks. Carin Meier of Neo had a keynote talking about how her love of robots as a child led to her hacking a Parrot AR Drone and Roomba (you can find her open source libraries on GitHub). Meier demonstrated her hacks on stage, commanding the drone and Roomba from her laptop.
Dan Neary of Red Hat held a session called Hardware Hacking With Your Kids, where he showed different ways to get children excited about open source by interacting with the physical world. "The great thing about having kids is that they're blank slates; you get to program them. You get to pass on your values [of open source] to the next generation," Neary said.
Open Source And Government
There were many conversations about open source in government, centering in particular on Code for America, the "Peace Corps for geeks" as Vanessa Hurst of CodeMontage described it. Code for America offers a way for developers and designers to help governments adopt the innovation of the 21st Century to better engage citizens. They do this by providing an 11-month fellowship to work out of a San Francisco office to produce open source applications to help make local governments more accessible. One such project that was discussed was Oakland Answers, a service that made the verbose government prose more understandable to the average person. Fellows are "looking to code is the next chapter of American history," Michal Migurski, CTO of Code for America said.
Leigh Heyman, director of New Media Technologies at the White House, discussed the process of open sourcing We The People, the petition platform used by the current administration (you can even find the White House on GitHub). During his OSCON keynote, Heyman showed this GIF of the first-ever White House commit on GitHub, a sure sign that the US government is fully embracing open source: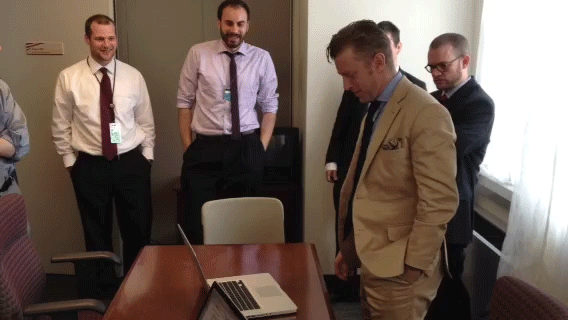 Heyman talked about not only the importance of having this application make the government more accessible to US citizens, but also the fact that it is available as open source for other governments to use. Heyman also talked about having a read API for developers to programmatically access the information from We The People, and looked forward to eventually offering a write API so that developers could interface with the app in the near future.