Migrating to a new email provider can be a daunting task, especially if you attempt it without an experienced partner.
And with Microsoft ending support for Exchange 2003 in just a few weeks (April 8), you may be considering a migration sooner than you expected.
With Rackspace Migration Services, we can help.
Our Migration Services are designed around a team of migration specialists that onboard you as efficiently and pain free as possible. With thousands of migrations under our belt, specifically from on-premise Exchange, we can help you navigate through the various components of the migration process.
We currently offer two levels of Migration Services: a Self-Migration offering and an Assisted Migration option.
Our Rackspace self-migration service was designed for customers who need to be migrated as quickly and independently as possible. It is ideal if you're an administrator who desires maximum control over the migration. Our self-service migration tool is available to you through our Control Panel 24/7/365, and is backed by Fanatical Support.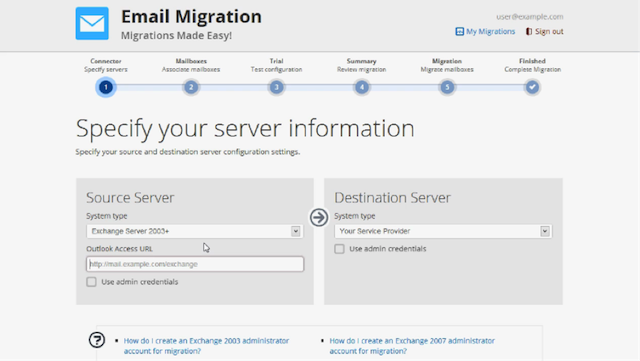 Self-service portal
If you would like more hands-on guidance throughout the migration process, our Rackspace Assisted Migration offering may be a better fit. By selecting this offer from our Control Panel, you will be assigned a dedicated Migration Specialist to walk you through the process, build out your environment and run your data migration. We will gather initial information from you to help us assist with the planning and implementation of your new email service and we will be by your side every step of the way.
Rackspace Control Panel
Regardless of the method you choose, once your migration is complete your end users will immediately be able to access their email via our Exchange 2013 OWA. You will also be able to take advantage of our Outlook Auto Configuration Tool, iPhone Configuration Tool and easy to follow support articles to help your end users receive mail on all of their devices as quickly as possible. Our support teams are here 24/7/365 to help with any questions you may have.
Check out our website for a step-by-step overview of the migration process to move from your current on-premise Exchange to Rackspace Hosted Exchange.
Learn more about the impact of end of support for Exchange 2003. If you would like to talk to an email specialist in more depth about our migration options, give us a call or feel free to chat with us online.