Now you can stay in sync when you're on-the-go with Mobile Sync for Rackspace Webmail.
Built on Microsoft ActiveSync technology, the mobile sync service syncs your Email, Contacts and Calendars between Webmail and your iPhone or Android device. So, add a Contact on your mobile device and it appears in Webmail. Edit a Calendar event in Webmail and the change appears on your phone. It's like taking your Rackspace Webmail account with you – wherever you go!
Email is also "push" with mobile sync, which means it's delivered instantly – no more waiting or constantly hitting the refresh icon.
Mobile sync can be added to any Rackspace mailbox for just $1 per user per month, and can be easily activated in the Admin Control Panel under Email Accounts > Mobile Sync.
If you have any questions about mobile sync or its launch, please contact support or your Account Manager. We would love to hear from you.
Please note this launch is for direct customers only. Mobile Sync for Rackspace Webmail will, however, be available for all customers – including resellers – in late May 2012.
Here's a quick overview of the service:
1. Rackspace Webmail users will now see a Mobile Sync link in their Webmail interface explaining the benefits of the service and how to enable it.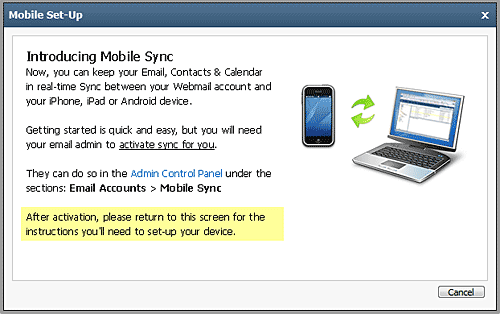 2. Admins can then enable the mobile sync service for any mailbox in the Email & Apps Control Panel. Follow the Mobile Sync link under Rackspace Email > Email Accounts.
3. After activation, the Mobile Sync link in Webmail now provides users an "ACTIVATED" message along with self-setup instructions for their mobile device. Within minutes after setup, their accounts will begin syncing.