This month, we raised the curtain on the Rackspace open cloud and welcomed our customers into a new era of openness, choice and innovation. And now we're taking that one step further by making  Rackspace Cloud Monitoring available to everyone through Unlimited Availablity. Cloud Monitoring is a powerful tool that unlocks the value of the open cloud by letting customers monitor any cloud or infrastructure, whether it's hosted in your datacenter or ours. It's one easy solution to monitor all IT infrastructure from a single interface, regardless of vendor or location. Cloud Monitoring joins Cloud Servers powered by OpenStack and Cloud Databases as pillars of the Rackspace open cloud.
Continuous Development To Innovate Faster
About five months ago, we offered our customers early access to Cloud Monitoring. Now, it is generally available to all. Throughout the early access program, we have made improvements to Cloud Monitoring to shape it into a rock-solid foundation on which to innovate. Here is a taste of some of the changes since we opened the Early Access Program:
There are hundreds of Cloud Monitoring deployments in production
Cloud Servers with a Managed Service level have used Cloud Monitoring since June
All new checks for Managed Cloud use Cloud Monitoring
The ability to detect string changes and alert you to them, which is very useful for security monitoring
Numerous new APIs to facilitate monitoring various resources
This velocity is possible because of coordination across all monitoring zones, and the tool that helps us best leverage that is dreadnot, the open source technology that enables continuous deployment.
Ease Of Management With New Control Panel
Another giant leap forward we've made is integrating Cloud Monitoring into the new Rackspace Cloud Control Panel, the slick new cloud management interface. This integration puts us on a path to continue iterating and improving the UI experience.
Here is the simple check creation widget. This is a quick and easy way to bootstrap creating Checks and Alarms in the Cloud Monitoring API. This will also help teach you about the different concepts by bootstrapping some of the configuration in the UI. This appears on the Server details page, and is showing the creation of a ping check:
Check out some examples of creating a HTTP monitor. The process is simple to set up and easy to maintain.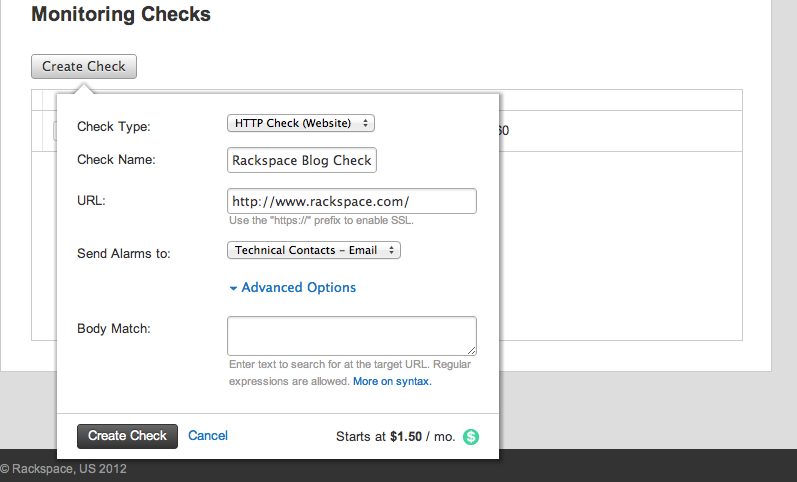 After adding the check you can see the different checks and their corresponding statuses. This is a clean view that gives you all the information at your fingertips.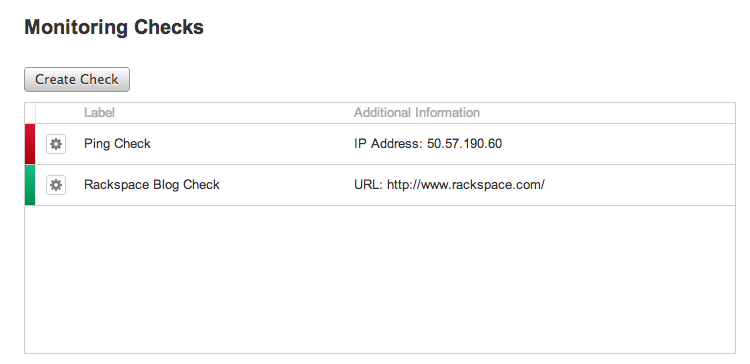 New Features And APIs
Here's a quick snapshot of other new features we've recently added to Cloud Monitoring:
Alarm Examples API – Having trouble configuring an alarm? This API will help describe examples and how to best use them.
Status Interpolation – String messages give a human feel to an alert; substitute place-holders for the point in time value.
Enhanced emails – Observations are included in the email you receive on state changes.
Traceroute – Run a traceroute from our monitoring zones. Get unprecedented visibility on networking issues, view the docs here.
Test existing check – Test an existing check, execute it in-line and get a result back.
Cascading entity deletion – Save time by just deleting the entity and having all children objects delete with it.
Type checking on alarms – Get notified when you try to use incorrect metric names.
Add a previous operator – Compare values against the previous time period. This is powerful for detecting string changes or growing numeric values.
Check out the release notes for details on other features.
Developer Center
We also have a new developer center, which is one-stop shop for all your technical needs. Check to the following content to get started.
And if you are looking for a more advanced integration, check out
Also, please visit the Control Panel to configure monitors. This will give you great examples of some of the capabilities of the monitoring system.
What's Coming?
We've invested a lot in building a world-class monitoring system for the cloud. And we'll continue to grow and add more sophisticated features. Here's a sample of what's coming:
Agent – This is incredibly important for a number of reasons: first and foremost, it opens up Rackspace Cloud Monitoring to be able to monitor anything on the host, from standard CPU, disk and memory, to custom metrics from application servers to MySQL. To learn more about the technology behind the agent, check out the presentation on Virgo or forum on compiling the agent.
Metrics, metrics, metrics… – The single most important thing is right around the corner.
Aggregation – Look at sets of data versus individual points.
Summarization – Help get more than just data; get recommendations and summarizations
If you are interested in a preview of the agent, please fill out this short form.
Stay tuned for more features. We'll update you as they come.
Sign Up Now!
Sign up for Rackspace Cloud Monitoring now. The whole team is really excited to get feedback about current and future functionality.  You have a seat at the table to make this product awesome so please sound off on our feedback site.