There is often a lot of confusion around licensing as Microsoft IT Pros look to move their configuration from an on premise location to a cloud hosting provider. Some common questions we here from IT Pros include:
Can I transfer my licenses to a hosting provider?
Can I transfer my licenses to the cloud? Or do I have to pay twice?
What licenses can I transfer?
While license mobility can be a tricky subject, I wanted to give you a few pointers to help you out as you begin this process.
The First Two Questions
Before getting caught up in transferring your Microsoft licenses, there are two quick questions to ask before you proceed. First, you need to verify that you have Software Assurance associated with your Microsoft agreement. Having a Software Assurance gives you license mobility and allows you to leverage your Microsoft licensing both onsite and into a multi-tenant cloud. Without this feature you are unable to move your license.
Once you have determined that you have Software Assurance, the second question to ask is whether or not the cloud hosting provider is approved to accept your license mobility. There is a finite amount of Authorized Mobility Partners that you can transfer your license to, so you want to make sure that Microsoft has approved your hosting provider (Rackspace is one of the approved license mobility partners.).
Determining Which Licenses Are Mobile
Windows IT Pros know that there are primarily two types of licenses: one for the operating system (OS) and those applications that sit atop the OS. Unfortunately, there is no way for you to transfer the OS license to any hosting provider. The agreement makes this clear that, "The Windows Server operating system licenses remain assigned to customers' on-premises hardware with their applicable license terms."
You can, however, transfer licenses of the different Microsoft applications that sit on top of the OS to the Rackspace open cloud powered by OpenStack. Please note, there are some applications that perform best on dedicated hardware instead of a multi-tenant cloud. These are the following Microsoft applications can go on the Rackspace Cloud: Exchange, Lync, SharePoint, Dynamics, SQL and System Center.
Transferring Your License To The Cloud
To begin transferring your license to the cloud you simply create a Rackspace Cloud Server with a Microsoft OS and then load the different applications. Within 10 days of your deployment, you will need to complete the verification form available on the Volume Licensing website and provide it to your Microsoft representative or preferred resale partner so they can assist with submitting your form to Microsoft. After the form has been submitted, Microsoft will confirm your eligibility and communicate your verification status to you and your chosen Authorized Mobility Partner.
You are responsible for applying that license to your Cloud Server. For Windows IT Pros who are considering transferring their Microsoft SQL Server license to the Rackspace Cloud, there is something that you must consider: At Rackspace, we bake the Microsoft licensing into our hourly Cloud Server costs.
While we do offer a Microsoft Server that has an SQL database installed, if you want to transfer your MSSQL license, you should not deploy a server with MSSQL already installed on it. You must create a Cloud Server with only the Microsoft OS loaded onto it and deploy the MSSQL database onto this server yourself. Note that we are unable to credit you for your MSSQL license if you create a Cloud Server that includes MSSQL on it.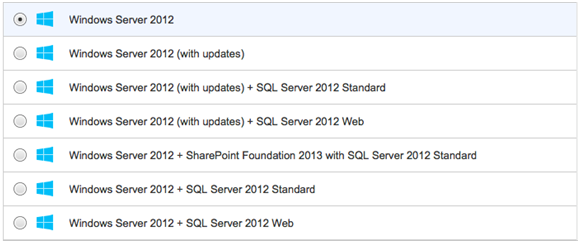 Note: If you want to apply your MSSQL license towards your Cloud Server, be sure to select one of the two base OS installs – we will be unable to credit you if you select a server with MSSQL already installed on it.
Can I Bring My Golden Image To Rackspace?
A golden image is an ISO of your entire server configuration. Because many people configure their base image with custom services and features, we are unable to create a server from your golden image. By creating a server from the options that we have available, we are better able to support you and your business. Furthermore, you are able to backup your Windows Cloud Server with Cloud Backup and create a golden image at which you can restore or build future servers in our cloud.
For more information on license mobility, be sure to check out the documentation on Microsoft's website. You can also view information about Microsoft License Mobility on the Rackspace site where you can ask us any questions you might have.