Digital books are a great alternative to the real thing – they're portable and better for the environment. But there are certain attributes for a printed copy that a digital book just can't recreate. And without a printed copy on display on your desk or on your shelf you might miss out on the opportunity to connect with a co-worker or friend who is reading the same book. Now you can catch that opportunity in the digital age, thanks to this week's Must Have App, BookShout! This app builds a community around books for executives to read with employees; students to read and study with each other; and friends to interact and discover new books.
Reading Goes Social
Available on iOS and Android devices, Kindle Fire HD and the web, BookShout! empowers readers to connect and discover great new books. According to CEO and Founder Jason Illian, "We work primarily with organizations that want to empower their people to connect, learn and collaborate around great content."
For example, a company with 5,000 employees could create a branded experience for its employees. This way everyone can interact and read books together. Individuals may also download the app for a more robust reading experience by sharing great books with their friends inside the app and across social networks.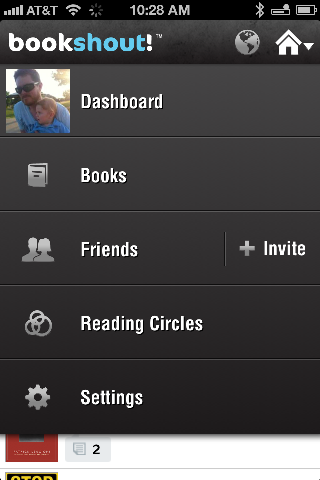 How Does BookShout! Work?
Social connections are the core of the app, both inside and outside the book. If a reader wants to share a book with friends, he can share to his favorite social network, browse through friend readings or discover new books. Readers can also share notes inside of the book, creating in-line conversations that work across devices. As one publishing executive noted, "Think of it as Kindle meets Facebook with a better UI."
Build A Community Around Books

BookShout! is a platform that builds community around books.
"We believe that content is king, but viral, connected content is King Kong, which is why we think the future of books is as much about the people as it is the book," said Illian. "We work in technology, but we are about people and books."
In other words, BookShout! isn't meant to mimic the physical reading experience, but to re-imagine and enhance reading in the digital space.
BookShout! launched in late 2012. Since then, the startup has made improvements to the app, gathered feedback and recently secured $6 million in Series B funding.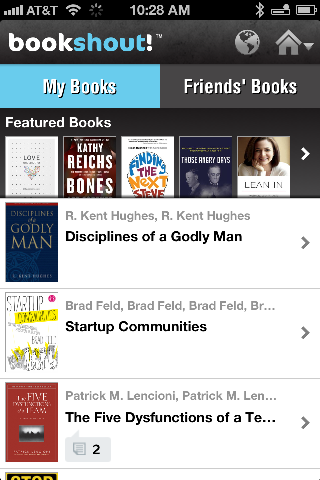 Books In The Cloud
BookShout! is a cloud-based platform that provides a great reading and discovery experience to readers while empowering publishers and authors to engage, sell and promote. "We couldn't do it well without great technology," according to Illian. Rackspace supports the BookShout! app with Cloud Servers, Cloud Load Balancers, Cloud Files, Cloud DNS and Cloud Databases.
Download BookShout! today and see who you could be connecting with over your favorite read.
Check back each week as we highlight a new Must Have App. If you missed last week, take a look at our previous Must Have App: Ziptask.
If you're a startup running on Rackspace and would like to be part of this series, let us know and we'll set up a time to talk and learn more about your awesome app.