Raise a virtual hand if you actually enjoy grocery shopping. Not many people do! If you're like many Americans, a weekly excursion to the store can take up a huge chunk of valuable time. Now, with this week's Must Have App, Rosie, your groceries can come to you!
How Does Rosie Work?
Rosie is the fastest, most convenient way to shop for groceries in your local community. This app offers a customized and personal shopping website for consumers, enabling you to track favorite items, automatically build grocery lists and choose from in-store pickup or delivery from local stores. Rosie partners with retailers and grocery stores too, which provide the inventory and fulfillment of customer orders. The best part? Shoppers only see the items and discounts that are most relevant to their interests. It's so convenient!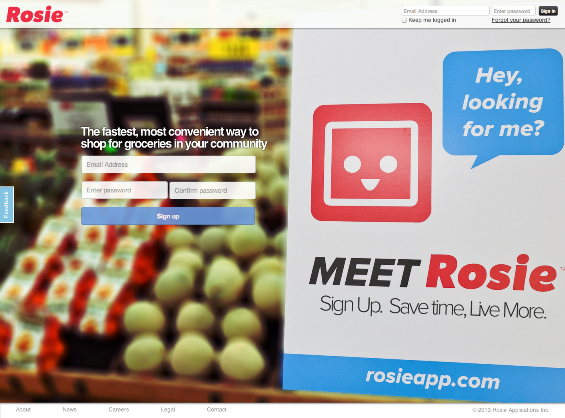 The Beginning Of Something Good
Rosie was created at Cornell University in September 2012 and has quickly grown to become the largest student startup on the upstate New York campus. The team comprises 15 undergraduate and graduate students from across educational disciplines, including members from Wellesley and Columbia colleges as well.
Rosie's culture rests on three main ideals: relentless curiosity, the idea that nothing is     sacred and the certainty that enthusiasm makes ordinary people extraordinary.
"We are committed to providing a fantastic shopping experience for each of our customers and will do whatever it takes to make that happen. We empower everyone at Rosie to swing for the fences, be fearless and focus on delivering innovative products and services to our customers," said Co-Founder Nick Nickitas.
Shopping through Rosie is appealing because of its convenience and ease of use. Retailers love offering Rosie to their customers largely due to a patent pending machine learning algorithm. This provides targeted shopper marketing insights and increased customer engagement across online and mobile channels. Rosie offers a complete set of analytics that identify different customer segments and how best to communicate with them. The result is that customers feel special and retailers learn more about buying behavior.
Rosie Is Born
Nickitas developed the idea for Rosie in August 2012 when he started his graduate degree at Cornell University. He was working 100 hours per week and his refrigerator kept running out of food because he didn't have time to go shopping. As a busy college graduate student, heading to the grocery store was not high on his list of priorities.
Armed with the idea, Nick participated in Startup Weekend Cornell in September 2012 and formed a core team to pursue the concept and build the foundations of a new company. Within weeks, the team had grown to 10 people and the company was off and running.
Today the app has nearly 3,000 users and has won numerous awards including finalist for Startup Weekend Cornell in 2012, second place at the annual Cornell Elevator Pitch Competition in 2012, finalist at the 3 Day Startup Cornell 2012 competition and winner of Startup Labs Syracuse 2013.
Rosie is also an eLab company (www.elabstartup.com) Cornell's prestigious and highly competitive incubator program whose mission is to accelerate the development of Cornell's top entrepreneurs.
How Has The Journey Unfolded?
From the beginning, the goal for Rosie has been to change the way people shop for groceries and household items.
"We want to disrupt the marketplace in a significant way, and set out to build our team by attending every possible networking event, tech meetup, startup competition and hackathon we could find across Upstate New York," said Nickitas.
"The company has been built following lean startup methodology and before we wrote a single line of code, we signed our first grocery store. Since that time, we've been working closely with our partners to develop an application that will revolutionize the way people shop for groceries," Nickitas continued. "On July 7 of this year we launched with our first store, P&C Fresh of Ithaca, NY. We're now in talks with about 100 stores across New York, and over 200 stores in the midwest."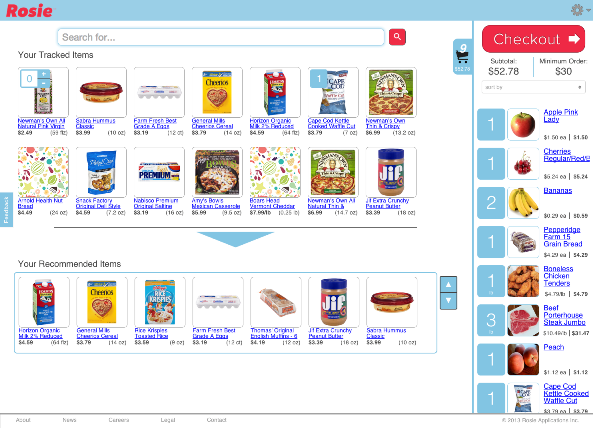 Groceries In The Cloud
Rosie's APIs and business logic are built in the Ruby on Rails framework, which allows for quick development and deploy of new features. This also allows the startup to leverage the rich Rails ecosystem.
Apache SOLR and the Sunspot Gem provide Rosie's search technology and easy integration into Rails. According to Nickitas "We leverage SOLR's low latency and customizability to provide our customers with fast, accurate searches."
Rosie's machine learning component is built in Scala, enabling easy integration with existing libraries such as Apache Mahout, and providing for future scalability through its functional nature.
Rosie is available for iPhone, Android and iPad. Find them at Rosieapp.com and discover how shopping for groceries can be fun again.
Check back each week as we highlight a new Must Have App. If you missed last week, take a look at our previous Must Have App: Rex.
If you're a startup running on Rackspace and would like to be part of this series, let us know and we'll set up a time to talk and learn more about your awesome app.