Finding, hiring and managing freelancers and contractors is a juggling act, especially if you're a startup or small business. From waking up at 2 a.m. to jump on Skype, to coordinating an idea from start to finish, project outrourcing takes up a lot of time. This week's Must Have App, Ziptask, offers a cloud-based web app designed specifically for outsourcing projects, so businesses don't have to manage it.
Outsourcing Just Got Easier
Any company that needs to outsource a project can simply go to Ziptask and hire a vetted, professional project manager who will find someone for you. Ziptask does all of the heavy lifting when it comes to outsourcing, including pre-screening, interviewing, hiring, as well as explaining, managing and reviewing the final work product. Overall, this saves a lot of time and resources typically spent managing outsourcing.
Ziptask prides itself on being a one of a kind solution built from the ground-up around high-end project managers. As a web app, Ziptask integrates features from other outsourcing portals like Odesk and Elance and marries them together into one customer experience.
Inside the Ziptask dashboard, users can find a project roadmap, work effort estimates, work item lists, team communication, iteration management, goal tracking, spending controls, custom approval routing and a milestone-based payment system. Users can connect with their specific project managers via scheduled video conferences or with the entire group in a team chat feature. Each project is assigned to a manager based on level of skill and expertise in the field so users can feel confident their project is in the best hands.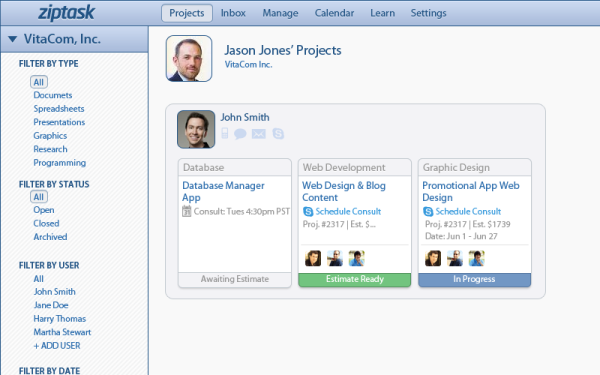 Get Started With Ziptask In A Flash
Ziptask is a cloud-based platform, so everything is done directly through the web app and online dashboard. The tech-savvy project managers insulate the customer from the friction and headaches of the outsourcing management process through the seamless interface.
Once a user signs up they are immediately connected with a highly qualified, US-based project manager who takes the lead. The user and project manager sync up directly via video chat to get all of the necessary details on the project. The project manager handles the hiring and managing of a team of freelancers to complete the job ahead of deadline. Users can interact with the project manager and team through the dashboard too, and follow along and monitor progress.
Here is an example of a project flow:
Video chat consultation with project manager to ramp them up on the project and discuss specific needs
Drag and drop files and documentation to the project manager
Project manager brings back an estimate for time and cost
Upon approval, project manager hires freelancers and gets them up to speed on the project
Continuous project oversight
Unlimited interaction through Ziptask's dashboard and communications tools
Ziptask project managers monitor and track the quality of projects and ensure they're done to the customer's specifications
Iterations: Send change requests back to the project manager as needed and they'll ensure the changes are implemented
Milestone-based payments: Only pay for work that's done to satisfaction, as it's delivered
The project managers use the collaboration, communication, screening, billing and execution tools to empower teams and run projects efficiently in one place.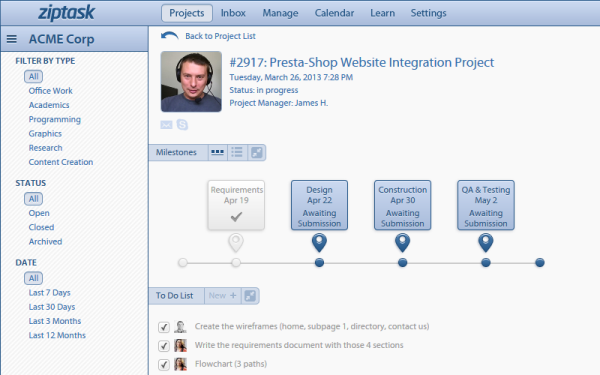 Technology Behind Ziptask
Ziptask is a web app built mostly with .NET, jQuery, Javascript and a solid backend with SQL Server. The platform also uses the Rackspace Cloud for its backend server infrastructure, which hosts both web servers, application servers and file storage.
Check out Ziptask today and get your projects off the ground and running in no time.
Check back each week as we highlight a new Must Have App. If you missed last week, take a look at our previous Must Have App(s): Drifty.
If you're a startup running on Rackspace and would like to be part of this series, let us know, and we'll set up a time to talk and learn more about your awesome app.