We all wish we could be rock star web designers and developers, but there just isn't enough time in the day. Wireframing is time-consuming and so is learning HTML5. Instead, you can call on Drifty, a new software studio based out of Madison, Wis. that makes easy-to-use cloud-based tools for developing mobile apps and websites using web technologies. The two apps, Codiqa and Jetstrap, are helping more than 150,000 users combined create apps and sites faster and more efficiently.
Drifty was part of this spring's TechStars 2013 class out of Geekdom right here in San Antonio. This week we'll highlight not one, but two awesome apps by Drifty as part of our Must Have App series. I recently sat down with founders Ben Sperry and Max Lynch to learn more about Drifty and the cloud technology behind the apps.
Clean, Functional Websites And Apps

The first app, called Codiqa, is a drag-and-drop interface-building tool for creating mobile websites and apps with jQuery Mobile. Codiqa exports production-ready HTML5 of whatever a user creates, saving them the time and effort it normally takes to do it by hand, and allowing them to skip the wireframing step altogether.
Jetstrap, the second app by Drifty, is similar, but focuses on empowering users to create responsive desktop websites with the popular HTML5 framework, Twitter Bootstrap. After drag-and-dropping a Bootstrap design, users can also export clean HTML5 of anything they build.
Codiqa and Jetstrap are the tools you've been coveting for quick, easy to create mobile sites and apps in the cloud.
The Cloud Behind The App
Both tools are essentially powerful Javascript/HTML/CSS applications that interact with servers through a REST API. Drifty developed the client-side and the backend separately, which makes it easy to plug the technology into different environments (such as a desktop app, for example). On the backend the apps use Python and CoffeeScript in the browser.
Friends Become Entrepreneurs
Max and Ben began working on the idea for Codiqa back in the summer of 2011. At the time, both were still working full-time jobs, like many new entrepreneurs, and spending afternoons and nights building the beta version of the tool. They created a landing page to capture leads and contact info to see if there was a need for these tools. "As it turned out, there were a lot of people interested in what we were building, and by the time we launched our private beta in January 2012, we had over 1,000 people signed up," according to Sperry.
Codiqa (click to enlarge):
Sperry commented that early adopters offered an immense amount of feedback and support during the private beta. The two hustled to fix a long list of bugs, and to add some much needed features before releasing the product for everyone. In February 2012, Codiqa launched publicly, and gained over 10,000 users in the first month when jQuery Mobile spotlighted a free version of the tool on its homepage.
Since then, the two have grown the user-base and profits to the point where they no longer needed full-time jobs, and in August 2012 they became full on entrepreneurs with the launch of their second cloud product, Jetstrap.
Jetstrap (click to enlarge):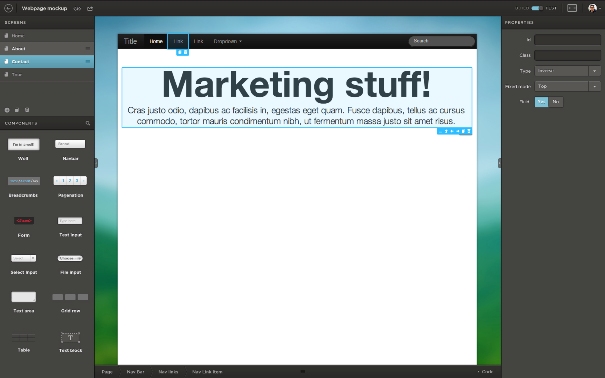 Web Development Made Easy
A person looking to build a mobile app or website can sign up for one of the tools and start building an idea with the easy drag-and-drop interface. Both apps come with the standard mobile and desktop component features, such as buttons, navbars, checkboxes, etc., which can be added and reordered with ease. When a user has a design built the way they want it, they can simply export the clean, standards compliant HTML5 file that's ready to go live. Drifty's products also have a live HTML/CSS/JS editor for people who wish to customize their apps even further within the tool.
"We've built innovative drag-and-drop tech and real-time HTML editing that updates your interface as you type, making it easy to pick your desired level of control: drag-and-drop for fast layouts, and HTML editing for small details," said Sperry.
The next time you need to mock up a site or develop a mobile app, Drifty tools will help you take your vision to reality; Drifty works to make web development easy with Codiqa and Jetstrap.
Check back each week as we highlight a new Must Have App. If you missed last week, take a look at our previous Must Have App: drchrono.
If you're a startup running on Rackspace and would like to be part of this series, let us know and we'll set up a time to talk and learn more about your awesome app.