I'd heard about StartupBus in 2011 from Anthony, the boss of a friend who worked in Cleveland. Anthony was one of the original members of the first 2010 StartupBus trip. At the time, I had been to several meetups and had gotten to know a lot of the programmer type folks in the Cleveland area. I had actually met Anthony briefly at a previous hackathon weekend.
After being encouraged to apply for StartupBus 2011, I landed a spot on the Ohio-region bus. Anthony was now that bus' "conductor." This was my first year on the StartupBus and my first time at SXSW. It was also the year I got my StartupBus tattoo the day we arrived in Austin. Everyone seemed shocked about that, but I had no hesitation. I knew immediately that the experience was going to change my life.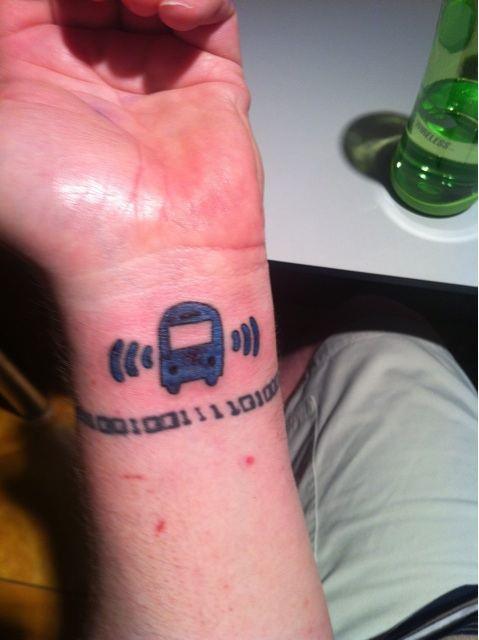 Barely two months later, I accepted a job working for Anthony in Cleveland, along with a few other members of that StartupBus. At that time, I was doing development and server work, and the company was a Rackspace customer. This was my first direct contact with Rackspace. As it turns out, a member of our 2011 team happened to know a few Rackers from the early days. Thus, another set of connections was made from the StartupBus experience.
In 2012, several friends and I, including a friend from the 2011 bus, got on the Las Vegas StartupBus on which we started a company called Wastebits. They've been going strong and working on it ever since. And of course, Wastebits is a Rackspace customer. 🙂  All signs point to great things happening for that team. This was the first year that StartupBus was hosted at the Castle (Rackspace's San Antonio headquarters) for the semi finals before heading to Austin for SXSW. I will never forget the hundreds of Rackers screaming and shouting and clapping and welcoming us into the Castle that morning. We also spent some time at San Antonio's Geekdom co-working space (and I'm now also a Geekdom member). 🙂
At the end of 2012, I spoke at Ohio LinuxFest, where there happened to be a Rackspace booth. I chatted with some of the Rackers about StartupBus and being at the Castle. One thing led to another, and the next thing I knew I was interviewing for a DevOps position on the Private Cloud team at Rackspace. I started as a Racker in January 2013, with the biggest smile on my face that anyone has ever seen
A few months later, I hopped onto the 2013 StartupBus out of Chicago – I  proclaimed that I would keep doing this event until they kicked me out! One of the stops en route to San Antonio was at Emma Inc. in Nashville, where Alex happened to work. He then boarded the bus and took the rest of the journey with us to the Castle. (And this is probably where his story starts!)
While I was mainly on the bus just to help out anyone who needed server assistance and not to join a specific team now that I was an employee, it was no less an amazing experience. I got to take a step back and watch all of the first time buspreneurs have their ups and downs. I saw them deal with the stress when things completely sideways. (A major StartupBus lesson!) But even more awesome, I got to watch them grow so much in a week, and watch them have the same realization that this experience would change their lives.
I'd planned to get on the Tampa StartupBus in 2014, but the weather in San Antonio had other plans. I got fogged in at the San Antonio airport. And after three flight cancellations, I couldn't make it to the Tampa bus, or any other bus until it was two days too late. I guess this was the final lesson the StartupBus had for me. I did get to be in the Castle to greet the StartupBus folks as they arrived, which included a bunch of people from Nashville who worked with Alex.
A year and a half after becoming a Racker, and some three-plus years after getting on that first bus, I've made the journey to being privileged enough to become a manager of an awesome team of talented folks here at Rackspace.
That's my version and I'm sticking to it. 🙂