Rackspace has publicly announced our affiliation with the OpenPOWER Foundation, and we are now an official member. OpenPOWER is a community dedicated to opening access to the lowest-level parts of servers: chips, buses, boards, firmware, and so forth. We anticipate that this movement will bring increased freedom and value to two other communities that we participate in: OpenStack and the Open Compute Project. We think that by working within this new community, Rackspace can deliver improved performance, value, and features for our customers.
That's the news in a nutshell, but perhaps you'd like a little more detail. Why now? Why OpenPOWER? And what's next? Those are good questions. The answers may surprise you.
Why now?
Rackspace has actually been involved with OpenPOWER for more than 18 months. We worked amongst the founders for months before the foundation launched, and remained engaged after launch, but chose to remain quiet. We've been evaluating the technology and the movement for quite some time. Both the current results and future potential are so promising that we are preparing to build an OpenPOWER-based, Open Compute platform. And it will run OpenStack services.
We intend to work alongside our partners in all three communities to achieve this goal. Today, we publicly communicate that intent.
Why OpenPOWER?
In the world of servers, it's getting harder and more costly to deliver the generational performance and efficiency gains that we used to take for granted. There are increasing limitations in both the basic materials we use, and the way we design and integrate our systems. In hindsight, one could say that Rackspace started to address these issues by starting at the top of the stack, and moving down; first with OpenStack, then with Open Compute. As we were building OnMetal, our single-tenant, bare-metal Cloud Servers, we began to delve into firmware for Basic Input/Output System (BIOS) and systems management, a still-closed frontier. Moving forward, as we consider the performance levels we want to provide customers with future cloud offerings, we'll need to start moving into chips, memory, and storage.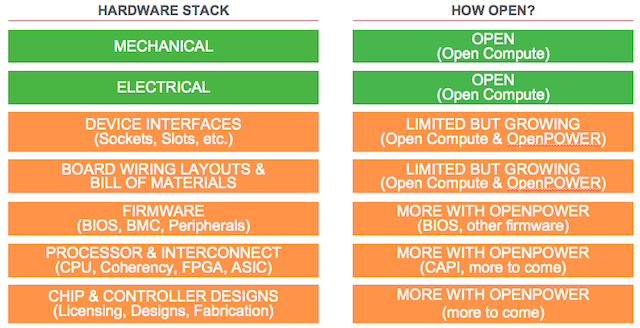 And we don't want to do development in this realm alone. We want the open source community to be involved. OpenStack developers may not think much about these things today, but they will in the future. Linux and Open Compute developers have been encountering these challenges for a while.
The OpenPOWER community has grown steadily over the last year, along with supported applications, operating systems and peripherals. Joining OpenPOWER puts us in great company. Currently, 80 organizations are represented, including Google, IBM, Canonical, Nvidia, Samsung, and Mellanox. Key OpenPOWER members have made meaningful contributions to OpenStack, and we hope to help OpenPOWER build fruitful partnerships within the Open Compute Project. OpenPOWER is also partnered with the Linux Foundation.
OpenPOWER brings an increasingly open firmware stack, and deeper access to chips, memory, and storage than anywhere else. This is unprecedented, and it invites the open source community to participate at all layers.
What's next?
In the coming months, we'll engage with our partners in the community to design and build an OpenPOWER-based, Open Compute platform. We want to see that platform contributed to Open Compute, complete with a highly-functional open source firmware set.
We aim to put that platform into production at Rackspace, integrated with OpenStack cloud services.
The way we use servers is already changing. We're already seeing the lines beginning to blur between conventional processors, memory, and storage. End users will continue to ask for more, and we need the software and solutions to enable them. We need solutions that sweep the whole stack, from hardware, to firmware, to operating systems, to applications. And we want them to be open. OpenStack and Open Compute have an opportunity to get involved early, and drive this change.
It's our vision that OpenPOWER enables OpenStack and Open Compute developers to work all the way down the stack. Where Open Compute opened and revolutionized data center hardware and OpenStack opened up cloud software and infrastructure-as-a-service, OpenPOWER is doing the same for the last black boxes in our servers: chips, buses, and firmware.
We want our systems open, all the way down. This is a big step in that direction.