Last month, we launched an early access program for the latest version of Rackspace Private Cloud powered by the Havana release of OpenStack. The response has been great and we have incorporated your feedback into our Unlimited Availability launch, which is available today for free and supportable by our talented team of experts.
OpenStack has matured, and in this release our focus was on both the core bits of the platform (which are very important) and the on the other features and services that help you operate and use your private cloud. Others in the community have already taken note of the non-core code we have written, and through our commitment to "open," we are working towards up-streaming that back to the OpenStack community for future releases.
In short, Rackspace takes OpenStack core or "trunk" code and configures it based on our experience running public and private clouds. We operate and run your cloud in a Private Cloud as a Service model. We stand behind it and allow you to focus on your applications while we focus on the infrastructure.
Check out Rackspace Private Cloud Sandbox installation and new features in this video:
In addition to the new release, we have also released two Open Virtual Appliance images optimized for VirtualBox and VMware Fusion. These freely available images can be installed in minutes.  In just a few clicks, you can get your hands dirty with OpenStack — whether you're a newbie or an experienced user.
Major new features in Rackspace Private Cloud include:
Orchestration (OpenStack Heat): This allows administrators and users to create templates for application stacks that can then be deployed within Rackspace Private Cloud. These templates may include infrastructure resources like servers, floating IPs, volumes, security groups and users.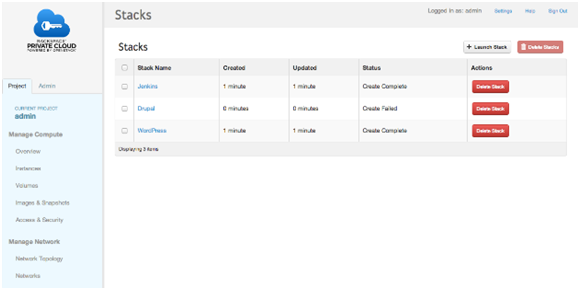 In-place upgrades: Upgrade your production environment from Grizzly to Havana without having to re-pave and start over.  This is a major milestone for customers who want to stay at the cutting edge of features and functionality coming out of the OpenStack community.
Highly Available Software Defined Networking: With the continued maturity of SDN technology inside of OpenStack, Rackspace was able to deliver an HA solution for L3 Software Defined Networking routers.   This takes your networking inside of Rackspace Private Cloud to the level of resiliency your traditional data center network provides, but with a whole new level of agility and capability afforded by SDN.
Telemetry Data Visualization: The OpenStack Ceilometer project delivered the capability to capture, record and query for a tremendous amount of usage data within your cloud.  With this new release of Rackspace Private Cloud, we've added an eye-pleasing and powerful way to visualize the Telemetry data, giving you access to the data in a whole new way.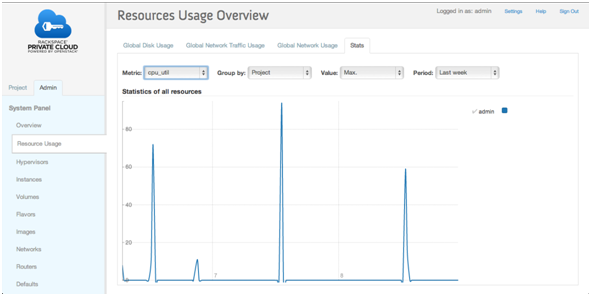 Load Balancer as a Service: This has been a highly requested feature from Rackspace Private Cloud users.  In our public cloud, customers can easily configure a load balancer and add/remove target hosts programmatically.  We leveraged the power of HAProxy and delivered a full-featured LBaaS your users and developers can leverage inside Rackspace Private Cloud.
These features are now available in the newest version Rackspace Private Cloud, which you can download for free here.  For full details on product features, documentation and information, please visit: Private Cloud Tech Resources. We offer both production operations and support for your environment, as well as hosting for Rackspace Private Cloud. Click here for more information: www.rackspace.com/cloud/private.
Our teams are continuously working on adding new features and functionality based on your feedback, so please keep it coming! Innovative companies are doing some really great things with Rackspace Private Cloud; from software development, to media delivery, to processing big data and beyond. If you want to learn more or have any questions, contact us at rpcfeedback@rackspace.com or find me on Twitter: @nikiacosta.