Rackspace and NASA founded OpenStack in 2010, and since then the cloud operating system has seen explosive growth in several key areas. With the mission of becoming the ubiquitous cloud computing platform, OpenStack Foundation has attracted over 5,600 individual members from 87 countries and 850 different organizations.
Another area where OpenStack is seeing tremendous growth is in the information technology jobs market. OpenStack-related skills are in high demand.
The graph below from Indeed.com, a leader in online job search, shows the relentless growth of OpenStack-related jobs in the IT sector. The graph also compares OpenStack job growth against other cloud software stacks like CloudStack and Eucalyptus. According to Indeed.com, their growth has slowed dramatically in recent months while OpenStack's has skyrocketed.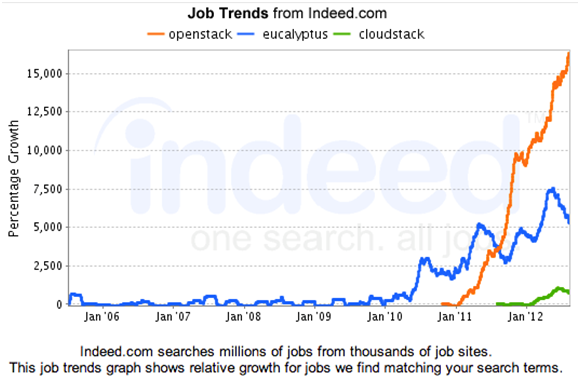 There has truly never been a better time for technology professionals to build their skills and knowledge around OpenStack and to join the fast-growing ranks of OpenStack engineers and developers.
To help you sharpen your OpenStack skills at home or in your office, Rackspace offers a free, downloadable deployment of Rackspace Private Cloud Software powered by OpenStack. Our software package provides you with an extremely simple method to deploy a private cloud in minutes.
Rackspace also offers a training and certification program for OpenStack. Our hands-on courses are aimed at teaching technical roles such as DevOps engineers and application developers the fundamentals of administering and troubleshooting OpenStack-based clouds. We also offer a tangible way to prove your skills by taking our Rackspace Certified Technician for OpenStack exam.
We are in the open cloud era, and OpenStack is leading the charge. Don't be left behind. Build your skills to effectively position yourself in one of the hottest and fastest growing job markets on the planet.

Rackspace itself has several OpenStack-related positions available. Check out the Rackspace careers site for more details.