The momentum OpenStack Summit San Diego built up on day one continued through day two with other key OpenStack announcements and presentations.
Dell came out swinging Tuesday morning when it revealed that it's working with Morphlabs, a converged infrastructure platform, to offer customers a private cloud appliance based on OpenStack. Dubbed mCloud Helix, the cloud solution leverages Dell blade servers and Crowbar cloud software; Morphlabs' mCloud technology; management and support services; and OpenStack technology. The two companies also announced that hosting provider Media Temple now offers private cloud services using mCloud Helix.
During his keynote presentation at OpenStack Summit on Tuesday, Canonical and Ubuntu founder Mark Shuttleworth said Ubuntu 12.10 is available now and runs OpenStack Folsom and that the upgrade path for Ubuntu 12.04, which adds Folsom, is also ready. Shuttleworth showed the audience how to upgrade a production cloud with services running on top of it from Essex to Folsom using a new Juju GUI – in just three minutes.
At the Summit on Tuesday, cloud storage player Zadara Storage unveiled the integration of its Virtual Private Storage Array (VPSA) service with OpenStack Cloud Block Storage (Cinder) for public and private cloud.
Leading up to the Summit, OpenStack Foundation member SolidFire, in conjunction with Canonical, announced a production-ready reference architecture for deploying OpenStack Compute and OpenStack Block Storage. At the Summit, SolidFire demonstrated the deployment of 1,000 production-ready VMs with predictable performance and quality of service.
And in a keynote presentation, former-NASA CTO Chris Kemp, now CEO of Nebula, dug deeper into why attendees ventured to OpenStack Summit. "To service customers and to build opportunities on this platform," Kemp said, later adding that OpenStack as a community has "an opportunity to define what Amazon does next."
Another big draw at this year's Summit was the "unconference" track, which let attendees present ad hoc sessions and discussions. One notable unconference that popped up Tuesday was the Women in OpenStack Unconference led by Rackspace Content Stacker Anne Gentle.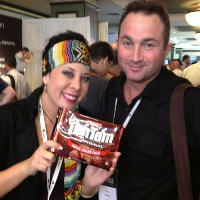 And for fun, here's a photo of me and Tristan Goode, Aptira CEO and OpenStack board member from Australia who gifted me some amazing Australian cookies! And awesome Aussie cookies weren't the only hot bit of schwag at OpenStack Summit. The duffel bags given out are going to be a hot commodity for attendees to carry home the show. From dozens of t-shirts and stickers that pledge OpenStack allegiance to Raspberry Pi computers and reusable water bottles from vizvid topped off with an IPA.
Be sure to check out the news from day one of OpenStack Summit San Diego. And don't miss this brief video looking at how community and collaboration are two pillars of the OpenStack Summit.
Join Rackspace's experts at various presentations and sessions throughout the Summit.