UPDATED at 6:00 p.m. November 8
OpenStack Summit Hong Kong kicks off Tuesday at Hong Kong's Asia World Expo. As a founder of OpenStack, Rackspace will be out in full force. From book signings and speaking engagements to a great party and meetups, we're ready to talk OpenStack and show you why it's the best choice for your cloud infrastructure.
Come out and see us during the Summit (we'll be at booth B9), which runs from Tuesday, November 5 through Friday, November 8.
This page will be updated throughout the Summit with new info and details. Stay tuned. And be sure to follow the action on Twitter with the hashtag #rackstackHK.
OpenStack In 2013: By The Numbers
Cost savings is the No. 1 business driver for OpenStack clouds, according to a survey released at OpenStack Summit Hong Kong that examined who is using OpenStack and what they're using it for.
Developing Ice House: Inside The OpenStack Design Summit [Video]
Developers are the heart and soul of OpenStack. At OpenStack Summit Hong Kong, developers are hacking on Ice House, the next release of OpenStack. For this video, Rackspace Video Storyteller Dave Sims went inside the Design Summit to capture the collaborative spirit of OpenStack developers.
Hallway Catch Up: Interviews With OpenStack Innovators [Video]
At OpenStack Summit Hong Kong, we caught up with OpenStack Innovators for quick, candid video interviews on working with OpenStack and their plans for the future.
Big News Brews At OpenStack Summit Hong Kong
There were a number of big news announcements at OpenStack Summit Hong Kong. Here's a roundup of some of the biggest.
OpenStack For Research, Academia: MIT, Rackspace Take The Stage At OpenStack Summit [Video]
At OpenStack Summit Hong Kong, Rackspace and MIT took the keynote stage to discuss how OpenStack is being used in academia and how it is powering sophisticated research projects. Here's full video of the presentation.
Rackspace, CERN openlab Push For Cloud Federation At OpenStack Summit
At OpenStack Summit Hong Kong, Toby Owen, head of technical strategy for Rackspace International, shared the stage with Tim Bell, CERN's manager of infrastructure, to provide an update on the CERN openlab research project that is digging deeper into federated hybrid clouds built on OpenStack.
OpenStack Summit: OpenStack's Impact On Academia
OpenStack is driving true change in academia. At OpenStack Summit Hong Kong, Tony Campbell, Rackspace director of training and certification, spoke about the need for the community to rally around research organizations and universities.
Powering Research (And Cookie Baking Robots) With OpenStack At MIT
At OpenStack Summit Hong Kong, Jonathan Proulx of MIT's Computer Science and Artificial Intelligence Laboratory highlighted how the lab is using OpenStack to power dozens of research projects.
OpenStack Summit Goes Global
OpenStack Summit Hong Kong is the largest Summit yet, a sign that there is a global hunger for OpenStack. Check out this video and see why.
OpenStack Summit: Hybrid Cloud Tears Down Siloes, Fuels Collaboration
At OpenStack Summit Hong Kong, a number of users outlined how they benefit from OpenStack clouds, including DigitalFilm Tree, which is using an OpenStack private cloud and Rackspace public cloud to fuel collaboration.
China, Hong Kong OpenStack User Meetup Draws Collaboration-Hungry Crowd
As a prelude to OpenStack Summit Hong Kong, nearly 200 attendees joined OpenStack experts from around the globe Monday at a meetup for the China and Hong Kong OpenStack User Groups.
Let's Change The Way We Elect The OpenStack Board
There is concern among some OpenStack Foundation members that the cumulative voting method used to elect directors to the board discriminates in favor of candidates who represent larger companies, at the expense of candidates who might be very active and respected in the OpenStack community, but lack the backing of a big employer. At Rackspace, we support changing the method of electing the board so that it no longer favors candidates from larger companies like ours.
Unlocked Meet-Up
Designing applications for the cloud has presented many new challenges and as more competitors enter the market, platform sprawl continues to be a serious threat. Join Rackspace Cloud experts as we discuss the merits of building on OpenStack, the open-source cloud platform and discuss key considerations you must take when designing, deploying and maintaining cloud applications powered by OpenStack.  At Unlocked Hong Kong (November 4 from 9:30 a.m. to 1 p.m. at Ocean View Court, The Arcade, Hong Kong Cyberport) we will discuss concepts such as polyglot persistence, modular design, service resiliency and configuration management. We will then take these principles and show you how we applied them to an application we've created to help you get ahead in the competitive cloud world, Margarine. Finally, we will walk through a DevOps transformation case study from one of Rackspace's most innovative customers, HubSpot. Register now for Unlocked Hong Kong.
OpenStack User Group Meet-Up
The China and Hong Kong OpenStack User Group has organized an OpenStack User Group Meet-up prior to the Hong Kong Summit. The meet-up will feature renowned cloud technology pioneers and OpenStack experts discussing the latest in OpenStack. Topics include the architectural design of OpenStack, case studies on deploying OpenStack solutions, upgrade orchestrations and the best approaches to identifying user requirements, profiling the user community and supporting ongoing user activities. You will learn the ins and outs of deploying cloud solutions on the open source cloud platform, and see what the future holds for them and for you. The event is Monday, November 4 from 3 p.m. to 7 p.m. local time at Ocean View Court, The Arcade, Hong Kong Cyberport (the same location as the Rackspace Unlocked event). Rackspace CTO John Engates will appear on a panel at 3:30 p.m. to discuss how to create and run a single platform on the open source cloud. The event is open to the public and you can register for the meet-up here.
HKJUG Meeting: Application Development With jclouds
Rackspace Developer Advocate Everett Toews will present at the Hong Kong Java User Group (HKJUG) meeting Monday, November 4 at 7:30 p.m. at Hong Kong Polytechnic University. The talk will focus on where developers can turn for toolkits that will make them productive and effective in the cloud, focusing on jclouds for Java. Apache jclouds is an open source library that helps you get started in the cloud and utilizes your Java or Clojure development skills. The jclouds API gives you the freedom to use portable abstractions or cloud-specific features. It's a multi-cloud toolkit that works with both public and private clouds, enabling hybrid cloud workloads. In this meeting, you will learn how to write Java that can control multiple clouds using interoperable code with jclouds. The agenda includes an overview of jclouds, its terminology and its community; the purpose and benefits of using jclouds; installing jclouds for use on the command line; working through an example of using jclouds to start virtual machines in the cloud; and working through an example of using jclouds to store files in the cloud. Find more info here.
Women Of OpenStack Gathering
Join the Women of OpenStack for a pre-Summit gathering! We will take a one hour boat tour of Hong Kong's famous Victoria Harbor from 5:00 p.m. to 6:00p.m on Monday, November 4. Immediately following the boat tour we will walk as a group to nearby restaurant, Isola, for happy hour and mingling. Space is limited so please only RSVP if you can attend.Boat tour and drinks are complementary. If you have any questions please contact events@openstack.org.
Visit The Rackspace Booth
We'll be at booth B9 on the expo floor and ready to answer all of your Rackspace and OpenStack questions. Come learn the hybrid cloud and how it's the best-fit for your workloads. Attendees can play our Unlock the Cloud game – everyone who plays gets a cool t-shirt and instant winners take home a Raspberry Pi. Everyone who plays is entered into a daily grand prize drawing to win a LEGO Mindstorms EV3. The grand prize winner is drawn at the booth at 4:15 p.m. and you must be present to win.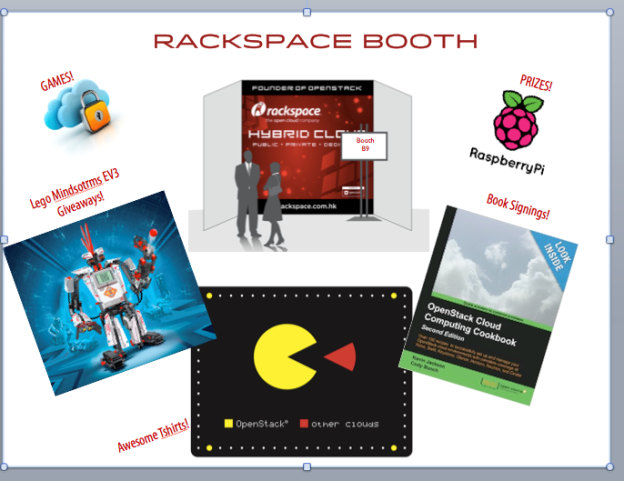 Get The OpenStack Cookbook And Meet The Authors
Rackers Kevin Jackson (Senior Cloud Architect) and Cody Bunch (Principal Architect) joined forces earlier this year to collaborate on the second edition of the OpenStack Cloud Computing Cookbook. Kevin and Cody will be in the Rackspace booth (B9 on the expo floor) from 1 p.m. to 2 p.m. local time Tuesday, November 5, Wednesday, November 6 and Thursday, November 7 to talk OpenStack and sign FREE copies of the book. Learn about OpenStack from two of its key Rackspace chefs!
Rackspace Presentations And Panels
Rackspace will have a huge presence at the Hong Kong Summit. More than 20 Rackers will give presentations and sit on panels throughout the week. And Rackspace Director of Training & Certification Tony Campbell will be joined on stage by Jonathan Proulx, senior technical architect at MIT's Computer Science and Artificial Intelligence Laboratory (CSAIL) for a special presentation in the keynote hall. You can see the full lineup of Racker speaking engagements here.
Come Celebrate The Hong Kong Cloud!
On Wednesday night we're hosting a party to celebrate the launch of the Rackspace Public Cloud in Hong Kong – the first OpenStack-powered public cloud in Hong Kong. Please join us at Armani/Prive (Chater House, 8 Connaught Road Central, Hong Kong) for cocktails, gourmet delights and to mix and mingle with Rackers and the OpenStack community. The party is from 7 p.m. to 10 p.m. local time Wednesday, November 6. Bus transportation will be provided from the east entrance of the Asia World Expo to Armani/Prive from 6 p.m. to 6:30 p.m., and return transportation begins at 10 p.m. Armani/Prive is also accessible via train. Come celebrate with us! Please RSVP for the party here.
More Parties
And if you want to keep the party going, there are a host of other vendor-sponsored parties throughout the Summit. Dell and Intel will host an OpenStack Summit Welcome Party on Tuesday, November 5 at 6:30 p.m. at the SkyBistro at the Hong Kong SkyCity Marriot. Red Hat will host a party Wednesday, November 6 from 8 p.m. to 11 p.m. at Isola. And eNovance and CloudWatt will host an evening party at the Armani Aqua Club on Thursday, November 7 starting at 7:30 p.m.
We look forward to seeing you in Hong Kong!