Day one of OpenStack Summit Portland is in the books. It's the largest ever Summit – with an estimated 2,400-plus in attendance. By a show of hands, this was the first Summit for many attendees.
Today saw a bunch of work go into the development of OpenStack's Havana plans and some really impressive talks on the current state of OpenStack and its future.
Day one also saw big news from some of OpenStack's main players.
Rackspace kicked off the Summit with plans to build and launch an interoperable Global Cloud Network for large service providers and telcos. The network will run the OpenStack-powered Rackspace public cloud – the largest OpenStack-based public cloud in the world – at global scale, creating a networked cloud of clouds. Rackspace will deploy our public cloud into a service provider data center and remotely operate that cloud, and the service provider will provide the physical data center operations as well as market, sell and support the co-branded cloud directly to its end-customers. This extension of our public cloud portfolio will give both service providers and their customers access to a network of interconnected global data centers – customers will be able to run their workloads in any data center that is part of the network, while maintaining their business relationship with the local provider of their choice. Users will be able to run their workloads where they want, when they want.
HP made headlines on OpenStack Summit Portland's first day with the debut of new Converged Cloud products. HP said it has updated its CloudSystem private cloud (version 7.2) to enable bursting of workloads into other clouds. It calls it CloudSystem Bursting Activation Services.  HP also launched Cloud Messaging, which enables developers to reduce downtime by duplicating messages across multiple servers. HP Cloud Messaging is built on the OpenStack Marconi API. CloudSystem version 7.2 also adds support for Red Hat KVM resource pools. Bursting will be available this summer, while CloudSystem 7.2 and Cloud Messaging are available now.
Cloudscaling also came to Portland with news. Cloudscaling is partnering with Juniper Networks to deliver an elastic cloud infrastructure solution that marries Cloudscaling's OpenStack-based Open Cloud System with Juniper's virtual network control technology to offer advanced networking capabilities for enterprises and service providers.
Meanwhile, Red Hat updated its OpenStack enterprise and community technologies and also its roadmap. First, Red Hat revealed that its OpenStack offering is now in an Early Adopter Program. Red Hat also launched RDO, which the company calls "a community-supported distribution of OpenStack that runs on Red Hat Enterprise Linux, Fedora and their derivatives." Lastly, Red Hat introduced the Red Hat OpenStack Cloud Infrastructure Partner Network, which it says is a global ecosystem of technology and service partners to accelerate the adoption of Red Hat Cloud Infrastructure offerings.
NetApp also made a big play to start OpenStack Summit. The company says it submitted a prototype and proposal for a file share service capability for consideration by the OpenStack Foundation Technical Committee and community at large. According to NetApp, OpenStack doesn't currently offer native management support for file-based storage systems and NetApp is proposing adding a file share service that is broad enough to address a range of file system types, either as an extension to the existing Cinder project (in its current form referred to as OpenStack block storage) or implemented as a separate project. NetApp says the goal of this integration is to extend access to applications written for file-based storage without the need for a separate management interface. vNetApp has designed and developed a prototype, which includes code contributions and extended APIs, as well as both a reference and a back-end implementation specific to NetApp. The prototype is available as a recent submission to OpenStack's Cinder project.
And when you picked up your bag at registration, you may have noticed these sweet hoodies – a pretty cool way to keep warm in chilly Portland.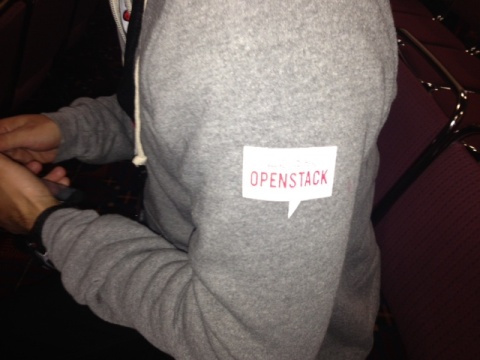 That was a big first day. Be sure to check in tomorrow for the Rackspace keynote and more news from the OpenStack Summit. And don't miss all of the awesome things Rackspace has going on at OpenStack Summit this week! If you want to chat, you can find me on Twitter at @nikiacosta.