Ready to upgrade to the latest version of the most popular email client? Great, because Microsoft Outlook 2013 is here and ready for you to download via your Rackspace Email & Apps Control Panel. Here is a sample of the new and improved features:
1) The sleek new design allows you to view snapshots of your calendar, schedule or contacts within the inbox minimizing the need to switch tabs.
2) The new People Hub automatically consolidates contact information from numerous sources and displays their latest social activity from Facebook and LinkedIn. You can quickly see contact information and reach out to contacts directly from the Inbox and anywhere in Outlook 2013.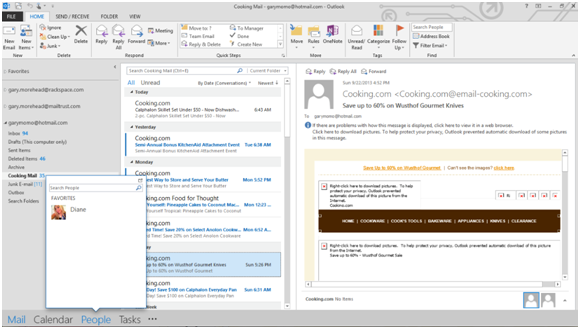 3) The attachment reminder detects if you mentioned an attachment and forgot to include it in the email – no need to send a second email and say "oops, forgot the attachment."
4) The Message Preview feature allows the first line of each email to be seen in the inbox without clicking on the email.
5) The weather bar addition allows you to check the weather without leaving your inbox.
You can access the latest version Outlook through your Email & Apps Control Panel.
Once you have downloaded Outlook 2013, you can use our Rackspace Outlook Setup tool located in Outlook Web Apps (OWA) to setup your client with a click. It's incredibly simple and created exclusively for Rackspace customers.
To learn more about Outlook on your desktop, click here.