Out:think Group, customer of The Rackspace Cloud, designed the website for Ava the Elephant. Who is Ava the Elephant?
Entrepreneur, Tiffany Krumins, developed Ava the Elephant to provide a more fun way of administering medicine to children. The word "me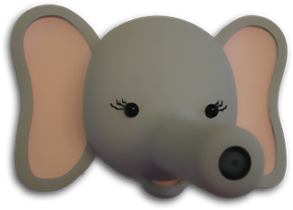 dicine" scares children (and yes, maybe some adults), and even if you say the medicine tastes like sugar, it's the whole process that makes children cringe.  Tiffany created Ava, made out of clay, to help with this process, making not only children happy, but parents, too!
Ava the Elephant is being featured on ABC's Shark Tank, a show that allows entrepreneurs the opportunity to present their new idea to a panel of investors. Ava the Elephant was featured on Episode 1, which premiered Sunday, August 9th. During the program, the website, hosted on Cloud Sites, was able to sustain the increase in traffic. That's one of the advantages of Cloud Sites – from the first byte served, a site is hosted on advanced clustered technology designed for high-traffic, high-performance websites. When a website receives increasing traffic, when it's featured on national television, for example, Cloud Sites scales automatically.
As a web developer, Tim Grahl, founder of Out:Think, prefers to spend his time doing web development, what he does best, rather than mess with system administration or worry about whether or not a site will survive a traffic surge.
The next episode is being aired this coming Sunday at 9/8 CST. Tune in to see how Ava plays out. We'll definitely be cheering her on!
More on Out:think
The Out:think Group  specializes in website design and development. Out:think has a strong work ethic and believes in doing what's right for the customer. Straight from their About Us page:
"Our belief is that websites should not be difficult to update, or require a new set of skills just to be maintained. That's why we spend a lot of energy on assessing our client's needs and offering solutions. At Out:think group, we don't limit ourselves in imagining what the solution will be, which enables us to think out of the box. After asking lots of questions and gathering information, we thoughtfully provide a plan for the website, thinking through every aspect of the project."
Out:think Group has designed websites for other notable business men and women and influential bloggers including Ramit Sethi (author of "I will teach you to be Rich"), Barbara Corcoran (business expert and host for SharkTank), Tim Sanders (author of Saving the World at Work) and Anita Campbell of SmallBizTrends.com.