For the past two weeks, we've told you about how we engineered our new Performance Cloud Servers to deliver exceptional levels of application performance.We've told you that Performance Cloud Servers are built with 100 percent data center-grade solid-state disks (SSDs) and powerful Intel® Xeon® E5 processors, as much as 120 GB of memory and 40 gigabits per second of highly available network throughput to every host machine.
We've showcased the speed, throughput, reliability and scalability improvements Performance Cloud Servers offer over our Standard Cloud Servers.
We've told you that our tests show Performance Cloud Servers significantly outperform comparatively-sized Standard Cloud Servers with as much as 2.1 times more processing power; 59 times more disk I/O; 3.6 times more network bandwidth; 2.8 times better overall performance; and 10 times better MongoDB performance.
But don't just take our word for it.
Cloud Spectator, a leading performance and pricing analysis firm for IaaS providers, recently released benchmarking results that confirm the amazing new performance delivered by our Performance Cloud Servers. In test after test, they outperform our Standard Cloud Servers by leaps and bounds. Cloud Spectator ran system, vCPU and RAM benchmark tests on Performance Cloud Servers, Standard Cloud Servers and First Generation Cloud Servers. It benchmarked all flavor sizes across Performance Cloud Servers, Standard Cloud Servers and First Generation Cloud Servers to examine the performance differences.
In its testing, Cloud Spectator found that a Performance Cloud Server's core outperforms both a First Generation and Standard Cloud Server by 60 percent, with the exception of the 2GB Standard Cloud Server. The results are staggering. For single-core test, Performance Cloud Servers scored 2,169, compared to 1,327 scored by Standard Cloud Servers and 1,379 by First Generation Cloud Servers.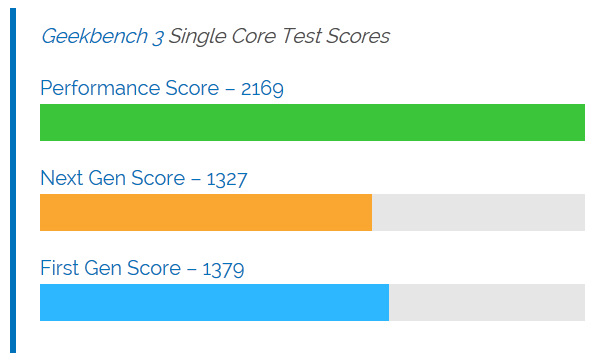 Cloud Spectator also found that RAM speed and SMP multi-core memory performance increased by around 2.5 times with Performance Cloud Servers compared to the memory speed of our Standard Cloud Servers, which creates an ideal environment for databases running from memory.
We're confident that Performance Cloud Servers enable you to run a large variety of workloads in the cloud with high performance and efficiency. Cloud Spectator's results are just a preview of the amazing performance you can expect when you use Performance Cloud Servers. Try Performance Cloud Servers and see for yourself. You can download the full Cloud Spectator benchmarking report here.