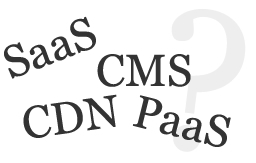 CMS, IaaS, PaaS, CDN and API. You may be familiar with some, or all, of these acronyms, but what exactly do they mean? And how do these acronyms impact developers and decision makers within your organization?
A recent post on the Rackspace Email & Apps Blog goes into detail some of the most popular acronyms, and their applications. Among the defined terms is:
CDN = Content Delivery Networks

What Is It? A geographically dispersed network of hosted servers holding copies of media. The geographic range of the servers allows media to be served to users around the world as if they were just around the corner from your data center.

Who Uses It? Web entities with global audiences who need to maintain a consistent experience across the world without building data centers all over the world.
Interested in learning more? Read "What Does That Mean?" for more insight.