Hosting made easy meets blogging made easy. Popular blogging platform, Posterous is utilizing The Rackspace Cloud's computing power and online storage from Cloud Files, which was recently moved from Amazon S3.  I caught up with Emil Sayegh, GM of The Rackspace Cloud, and he was thrilled when he learned that Posterous chose The Rackspace for hosting their infrastructure and said: "Sharing the same philosophy and vision of making things simple for customers, we couldn't be happier to host Posterous. It's another example of how entrepreneurs with a good idea can get their businesses off the ground quickly and with little cost upfront."
What is Posterous?
If you are an avid blogger, you know that it takes time brainstorm a post idea, write the content and actually publish it. Often times, a lot of the work goes into just maintaining your blog on whatever software you choose to use. Posterous assumes the headaches of maintaining your blog yourself. As a member, you can simply update your page with text, photos, audio or video by simply sending an email to your Posterous account and Posterous will take care of the rest. For those that are not technical but understand email and want to share information with friends, Posterous is a great way to get started. With every Internet user owning an email account, Posterous realizes there is still room in the blog publishing space. Their key force is being able to send rich media and still be mobile.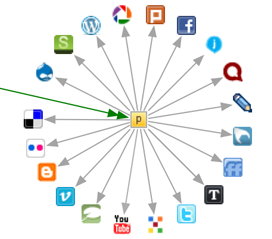 Does this mean forget the rest of your social networking platforms? Absolutely not! The best feature Posterous has is its "Autopost." You can autopost to popular social networking sites such as Facebook, Twitter, Flickr, Tumblr, WordPress, YouTube, Vimeo and many more.  And yes, it will post to all your accounts with just one simple email. No wonder Posterous has grown 20 to 30 percent month after month since its launch last year.
Why The Rackspace Cloud?
With such a rapid growth rate, Posterous has relied on The Rackspace Cloud for cloud computing power. The ability to spin up servers in seconds has been critical for keeping their infrastructure online. Co-founder of Posterous, Sachin Agarwal, talks about their experience:
"We built a dead simple application for everyone – from geeks to soccer moms – to share thoughts, pictures and videos, and we needed a cost effective hosting solution to run it. We had turned to Cloud Servers for affordability, the ability to spin up new servers in seconds and for Fanatical Support.  We've been so happy with the service that we recently made the decision to switch to Rackspace Cloud Files, from Amazon's S3, for our new storage needs."
When the new iPhone 3G S became available, Posterous saw a 400% increase in video uploads from their users.  Without a blip in performance, Posterous was able handle the load with ease, transcoding all the videos and rapidly preparing them for online viewing.
Posterous actually uses The Rackspace Cloud to power all their compute operations including email processing for when users email their blog post content and as application servers for the frontend Ruby on Rails application that presents user content in a blog-style format for visitors.
What's Next for Posterous?
Posterous has a long list of features they are working on such as the recent launch of background themes. They also plan to announce widgets operating on an open API and later this year, Posterous says they will begin storing all new media sent to posterous.com, including photos, MP3s, documents and videos, on Cloud Files.
Video Interview with Founders of Posterous
Robert Scoble did a cool building43 video interview with the Founders of Posterous, Sachin Agarwal and Garry Tan.