It's no secret that CIOs and IT executives feel pressure to provide more value to the business. A study from Gartner (Amplifying the Enterprise: 2012 CIO Agenda) indicated that the No. 1 priority for CIOs in 2011 and 2012 was "increasing enterprise growth." IT has to constantly reevaluate its value-driving activities to ensure they align with what the business needs to acquire new customers and maintain competitive advantage through innovative technology development.
I must have heard this phrase a thousand times: "IT needs to move up the value chain!" But what does this actually mean?
Let's look at the transformational activities undertaken by corporate IT at Rackspace. We sought to reduce time spent on "keeping the lights on" and to redeploy key resources into value creating areas to effectively "move up the value chain." Using Rackspace Private Cloud as a platform for innovation made this possible.
The Rackspace Enterprise Business Intelligence (EBI) team faced a key problem: the sheer size and amount of data created on a daily basis within the various Rackspace systems was becoming unmanageable with traditional relational database systems. Data points included customer account data and usage and billing information. The addition of monitoring, response and support metrics meant a massive increase in daily data creation and a need for real time access to analytics. The data is also highly sensitive and needed to remain on-premise.
The figure below shows the value chain and the three key IT transformation steps required to implement an innovative big data solution that resulted in major improvements in Rackspace's ability to deliver exceptional service to you, our customers: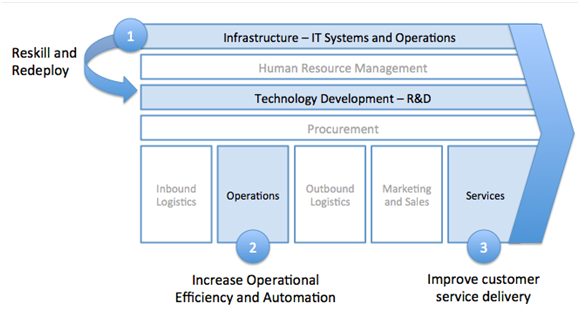 1. Reskill and Redeploy key resources
Database and systems engineers had to learn and understand a brand new way of operating. Moving from a relational database system such as SQL Server to a NoSQL solution like Hadoop and Cassandra requires brand new skills for the technical teams involved.
The entire system was to be deployed on an OpenStack-powered private cloud, meaning the team needed a deep understanding of OpenStack. By leveraging the expertise of the Rackspace Private Cloud Support team, the EBI developers could focus on the value-driving development activities of the data management solution. The complex mechanics of operating, patching and maintenance of the underlying private cloud infrastructure could also be outsourced to the Private Cloud Support team, as these activities did not lend themselves to actual value creation.
2. Automation for reduction in Capex and Opex
The system needed a platform that allows self-healing and elasticity. Using Private Cloud, the EBI Team developed an automated system that utilizes business rules to expand or shrink the available resource pool. Additional rules could be written that would monitor availability of a specific instance in the Private Cloud; and if service degradation occurred it would simply destroy and recreate the virtual machine and add it to the available resource pool. This automation reduced the need for employees to simply monitor and ensure system uptime.
3. Improve customer service and growth
Near real-time access to business data and the ability to deliver trending and reporting data could now be used to improve the customer experience and expose a gold mine of analytical information to drive strategic business decisions and to improve customer service.
Big data analytics allow the senior leaders of our company to make informed decisions around how many people we need to hire and when. The reporting structure we use today will aggregate our work across all shifts, normalize it and deliver the number of Rackers we need for each role in order to best service our customers.

– Curtis Morris, Senior Manager in Rackspace Customer Support
The key take away is that the EBI team remained laser-focused on the activities that would deliver business value and results. Had it worried about understanding the underlying mechanics of operating a cloud infrastructure it would have wasted precious resources. Businesses need to entrust these operational activities to experts like Rackspace to conserve their scarce talent pool.
You can read more about the evaluation and selection of the various solutions that lead to big data solutions on Rackspace Private Cloud being deployed in this white paper.