Last Thursday, the Rackspace Private Cloud team announced our newest OpenStack-as-a-Service offering: Rackspace Private Cloud powered by Red Hat, a managed private cloud deployment of the Red Hat Enterprise Linux OpenStack Platform delivered with our unmatched 99.99 percent OpenStack API uptime guarantee.
Today, I want to share the details of this co-engineered and integrated solution, and invite you to join Senior Director of OpenStack Marketing Christian Foster and myself on Feb. 23 at 10 a.m. Central for a webinar where we'll further discuss this new offering.
As the 2015 Red Hat Cloud Partner of the Year, with more than 170 Red Hat certifications and proven OpenStack operational expertise, Rackspace is uniquely positioned to provide customers the following benefits through a managed deployment of Red Hat powered private clouds:
Red Hat Certified. This solution is a certified deployment of Red Hat Linux OpenStack platform that is enterprise hardened and supported by a broad partner ecosystem.
Reduced operational complexity. Rackspace will be the single point of contact. We'll deploy, manage and maintain your private cloud and work directly with Red Hat to resolve any issues that may arise.
Improved infrastructure efficiency. Our Red Hat and OpenStack experts developed our prescribed deployment configurations and use automation to help improve the efficiency of infrastructure as you scale.
Upgrades at your own pace. We offer a longer software support cycle (two years), allowing organizations with more structured change management policies to schedule upgrades to meet their needs.
Rackspace and Red Hat work have worked together to help customers easily use their existing software subscriptions by enabling this offering in Red Hat Cloud Access. This lets customer bring the Red Hat software subscriptions that they have already purchased to their Rackspace private cloud.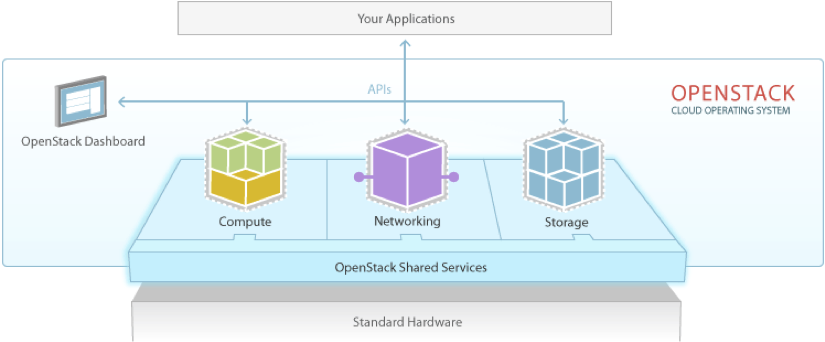 Supported services include:
Compute (Nova)
Block Storage (Cinder)
Networking (Neutron)
Orchestration (Heat)
Dashboard (Horizon)
Image Service (Glance)
Identify Service (Keystone)
Converged Storage (Ceph)
Red Hat Satellite
Red Hat Enterprise Linux OpenStack Platform Director
Reference architecture:
Our reference architecture is designed with a 4-node control plane, redundant firewalls redundant load balancers to provide the high availability, scalability and performance that production workloads need.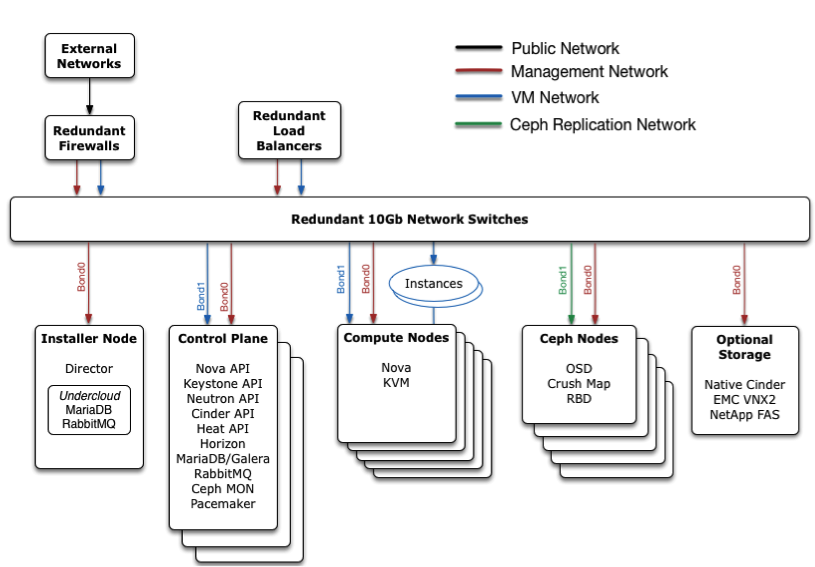 Rackspace Private Cloud powered by Red Hat is a flexible offering that provides several options for compute, storage, networking and image formats:
Host Operating System: Red Hat Enterprise Linux 7.2
Hypervisor: Red Hat Enterprise Linux 7.2 with KVM
Compute:

Red Hat Enterprise Linux 7.2 compatible compute including Cisco, Dell, IBM, HP.
Converged storage via Ceph (for both block and object)
OpenStack Block Storage (Cinder) drivers for NetApp, EMC and Cinder hosts

Networking: Neutron using the ML2 plugin and Open vSwitch agents support the following:

Flat and VLAN provider networks
Flat, VLAN and VXLAN overlay (tenant) networks
L3 agents for routing, NAT and floating IP addresses
Support for the PLUMgrid Open Networking Suite for more advanced features and capabilities

Images: We support Glance and its ability to upload an image in any of the following formats:

Raw, Machine, VHD (Hyper-V), VDI (VirtualBox), qcow2 (Qemu/KVM), VMDK (VMware), OVF (VMware, others)
And perhaps most importantly, our Fanatical Support includes:
A dedicated support team available 24x7x365
Operational expertise from the OpenStack experts
Proactive 24×7 monitoring and maintaining the health of your cloud
An option to assign a Dedicated OpenStack Engineer to your account
The following SLA guarantees:

Our industry-leading 99 percent OpenStack API uptime
15 minute live response time to emergency tickets

Additional guarantees if hosted in a Rackspace data center:

100 percent network uptime
100 percent availability for critical infrastructure systems
1 hour replacement of any failed hardware component
More questions? I hope you'll join Christian Foster and me for our Feb. 23 webinar to learn more about Rackspace private cloud powered by Red Hat.
Ready to start your journey to OpenStack-as-a-Service journey now? Contact us at 1-844-858-5928 or visit the Rackspace Private Cloud Solutions overview page on our website.