At Rackspace, in an effort to ensure that our customers get the most out of what we offer, we constantly work to update and improve the solutions we provide. We've recently made a few updates to our RackConnect solution that will help our customers better leverage a hybrid cloud environment.
In addition, if you're a current RackConnect customer, we need you! We'd like to get your feedback on what you think about our current solution and what you think we could do to make it better. Please take a few minutes to complete our survey and provide us with your feedback.
Now, here's what's new with RackConnect:
New RackConnect Knowledge Center!
To help you better understand RackConnect and how you can use it, we've recently updated our Knowledge Center to include a series of support articles for you to leverage. Please visit the following link to learn more: http://www.rackspace.com/knowledge_center/product-page/rackconnect
Cloud Server Load Balancing Now Automated!
Newly created Cloud Servers can now automatically be associated with an F5 Big-IP Local Traffic Manger load balancer pool. How does it work? Simply use metadata when creating a Cloud Server. The server will automatically be added to the pool and automatically removed when the server is deleted.
When you create a new Cloud Server enter:
Metadata Key: RackConnectLBPool
Metadata Value: (The exact name of the pool as defined on the load balancer; use a semi-colon separated list for more than one pool)
It should look something like this: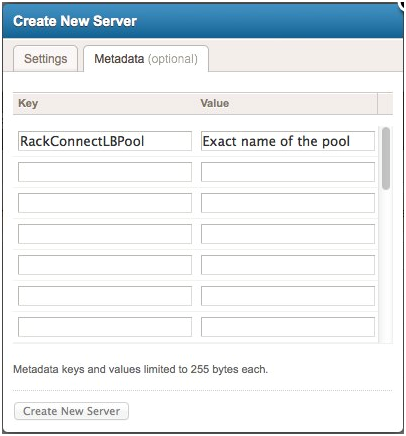 Please review the RackConnect Knowledge Center article we created, for more information. If you don't know the names of your load balancer pools, no worries! Simply contact your Support team.
RackConnect API Now Available!
Did you know that RackConnect has an API? The RackConnect API provides a way for you to programmatically access certain read-only information about your Cloud Server and RackConnect configuration from within your Cloud Servers. The API will provide information that will be useful in several instances:
When you are scripting or automating any post-server build configuration tasks, you can query the API to learn when RackConnect automation has completed configuring your server; so any tasks you wish to perform don't conflict with the automation being performed by RackConnect.
When you are setting up the network configuration manually on your Cloud Server (when the "Configure Network Stack" automation feature is disabled on your Cloud account) the API will return the gateway IP address to be used as the default gateway on your Cloud Server, which you can then use to correctly configure the Cloud Server network stack.
When you wish to determine the specific actions the automation will take against one of your Cloud Servers you can view the status of each automation feature for a specific Cloud Server.
The RackConnect API provides four API calls, available from within your Cloud Server(s), that provide details regarding the status of the your RackConnect environment, including:
get gateway IP address
get automation status
get automation status details (status of tasks)
get automation features status
For more information and specific usage instructions, please see the RackConnect Customer API.
Stay tuned for more updates coming soon!
Additional RackConnect blogs to check out: