It's no secret that Rackspace loves startups! We were one not so long ago. With deep entrepreneurial roots, Rackspace is committed to helping startups drive the next generation of businesses through open cloud innovation. Now, with the Rackspace Startup Program, we provide open cloud computing resources to help power startups to success. And inside Rackspace, we have many present and past employees, known as Rackers, who are working on some really cool startups. Have a look for yourself…
Emergent One, with team members in the San Francisco Bay Area, Los Angeles and Richmond, Va., helps companies build and manage APIs for their existing applications faster, easier and cheaper than developing them in-house. The Emergent One platform hooks into an application's database and gives the customer the ability to quickly include any of their data in a customized API, which is then hosted and able to scale in the cloud. Along with the API, a developer portal with full documentation and an interactive console is provided, so people can get started using the new API immediately.
"Co-founder Kevin Pfab (CEO) and I were actually both working at Rackspace in their Email & Apps division," explains Mike Taczak, CTO and co-founder of Emergent One. "We were building out an API for the Web Apps platform that had a four-developer-year roadmap.  It was going to take us that long because the application was almost a decade old and was not built with concern for an API, so a ton of code had to change."
"We both thought that was too long, and knew tons of other apps at other companies were in a similar state, so we set out to make things easier," continues Taczak. "When we reached our full product vision, the vast majority of that four-developer-year API could be built with our platform in just a few hours, and the rest with about a week of fine-tuning. We ended up pivoting to our current offering in January 2012 during TechStars Cloud in San Antonio.  We were building something a little different before that, but we were still in the API space for sure."
Taxi for Two, headquartered in the United Kingdom, is a mobile phone-based service that enables people going in the same direction to get in touch easily and safely and arrange to share a taxi. It works on any mobile phone with an Internet connection. Thirty seconds is all it takes to find someone going the same way, and contact them to arrange to share a taxi. And it's safe – no one you contact through Taxi for Two will ever see your mobile number.

"I joined Rackspace in April 2012, just as work was kicking off around the International launch of open cloud," says Garry Prior, co-founder and managing director at Taxi for Two. "I found myself right in the middle of it, which was a great opportunity to learn and meet people from right around the business, including folks from the United States."
"Being new to the technology behind cloud and web hosting, the learning curve has been pretty steep," concludes Prior. "However it's been an exciting time, which has also helped with new ideas around Taxi for Two. Since I joined Rackspace, we've moved the hosting of Taxi for Two onto Rackspace open cloud – we now make use of Cloud Servers, Cloud Databases, Cloud DNS, Cloud Files and Cloud Monitoring."
TrueAbility™ is a cloud-based technical assessment tool that allows system administrators to demonstrate their skills in a real environment, disrupting the technical recruiting industry by changing the way companies hire technical employees. The technical recruiting process today is archaic, based on a candidate's ability to self promote, and full of waste. Companies are struggling to find qualified technical talent and spending tens of thousands of dollars for each hire.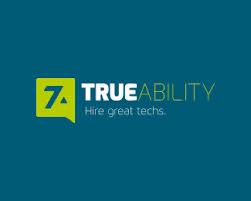 "Our four co-founders have over 30 years combined experience hiring, training and developing teams of techs," reveals Frederick "Suizo" Mendler, co-founder and COO of TrueAbility. "Collectively, our team of former Rackers has hired over 1,000 IT professionals! With a passion for tech workers, and a deep understanding of the current tech hiring and recruiting process, we recognized a big opportunity for change."
TrueAbility was founded in May of 2012, and the idea was formed in the head of co-founder Marcus Robertson, in San Antonio. "With an ever increasing demand for skilled technical talent, we believe there is a benefit to both technical candidates and hiring managers/recruiters by providing an objective means to evaluate the candidate's abilities in a real environment," says Suizo, as he brings down the curtain on this story inside Racker startups.

Are you a Racker with a startup idea? Are you an entrepreneur affiliated with an accelerator, university or venture capital program? Are you a bootstrapper with the next big idea in technology? If so, the Rackspace Startup Program is here to provide you with a world class open cloud computing platform on which to build your startup. Contact the Space Cowboys for more information and insight on launching your startup from the ground up.