Last month, Racksburg (the Rackspace Blacksburg dev offices) joined New River Valley Rocketry (NRVR) and several local community technology groups to support a very special STEM-outreach rocket launch here in Virginia's New River Valley.
As the founder of NRVR.org, I had been in communication with Rocket Boy Homer Hickam (made famous by the book and movie "October Sky") for over a year regarding eventually paying NRV Rocketry a visit next time he was in Blacksburg. Homer attended Virginia Tech here in Blacksburg before going on to NASA and fame. If we could just lure him out here to one of our local high-power rocket launches we knew we could attract kids and families in the area too  —  and in doing so, set the stage for a once in a life time opportunity to be inspired by a true national STEM hero within our small community.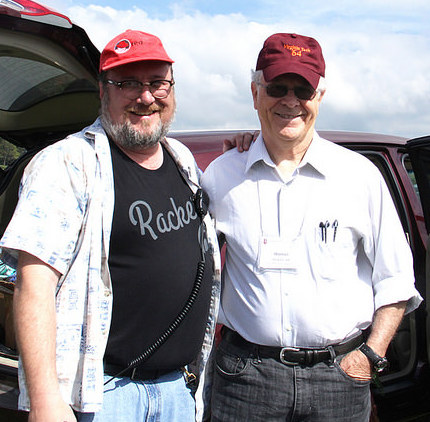 When NRVR launches are held on Virginia Tech's farm land properties, the university requires that such events not be publicly advertised (as not to trample their fields), so this event was not allowed to be openly promoted in the press or media. It was only by word of mouth and direct email invites that we gathered attention and attendance of local schools, churches, boy scouts and families. Even so, we managed to host around 300 community members (around 60 percent of which were kids), including a large number of VT Aerospace and Engineering students.
By special invitation, VBI (Virginia Tech Bioinformatics Institute) paid to bus in a group of wide-eyed middle school kids from rural Franklin County, Va. As we recommended to the school science teachers, the school showed the kids the inspiring STEM movie "October Sky" the week prior. By watching the film, the kids would all know Homer's now-famous story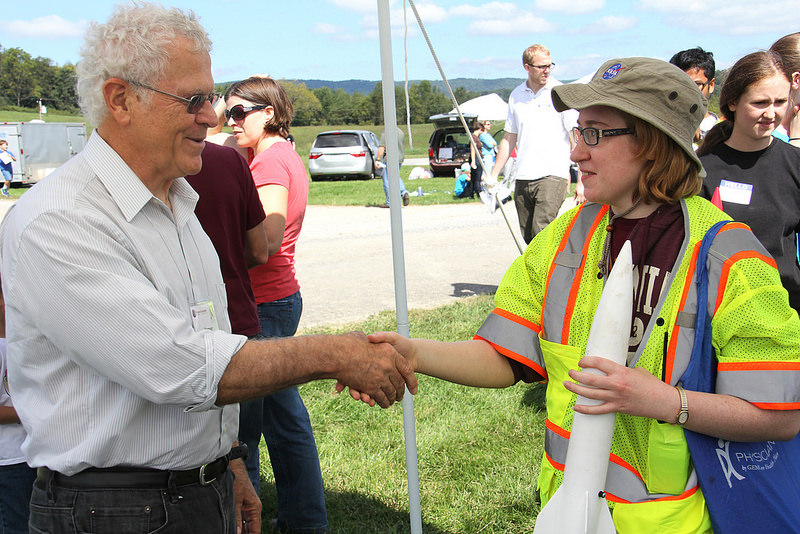 about how through STEM and rocketry he was able to pull himself up and out of that West Virginia coal mining life, up through college (at VT) and on to his career with NASA. As a result of everyone's hard work, these lucky kids (and adults) actually got to meet and shake hands with American STEM-hero Homer Hickam himself, right here in Homer Hickam's old college stomping ground! It was truly an inspiring event.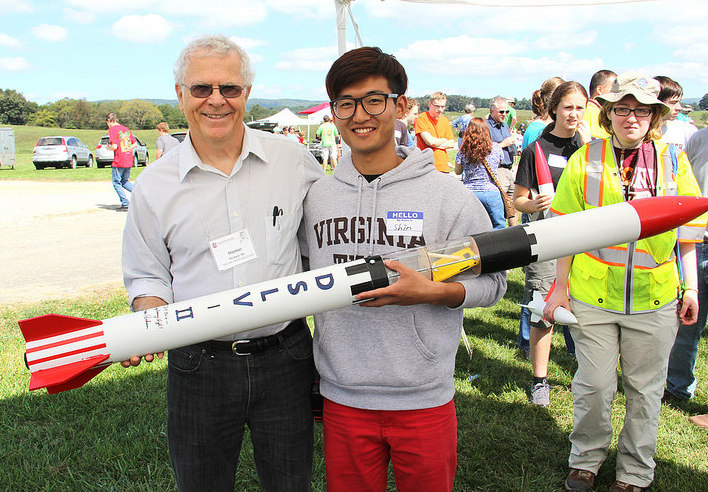 In an unexpected surprise, one after another VT Aerospace and Engineering college students advanced through the three-hour autograph line and approached Mr. Hickam, thankfully shaking his hand. One student said: "You and your story is why I got into aerospace Mr. Hickam." and another, "If it were not for October Sky, Mr. Hickam, I would never have become and Engineer."
More inspiration followed as younger teens and preteens approached Homer, beaming with hero-worship and smiles, to quietly shake his hand and get his autograph. It was then we KNEW that we were changing lives right there on the spot. It was a very special thing to witness AND be a part of.
Rackspace and other sponsors paid for the event's free food (gourmet hot dogs by "Eat The Family Dog"), provided food prep and critical services. VBI picked up the tab for busing in the Franklin County kids as well as the special kid-event insurance for all the children. Even the VT ham radio club VTARA joined in and helped by using its 2 Meter HT radios and emergency reflective vests to control traffic flow and parking (very professionally done!).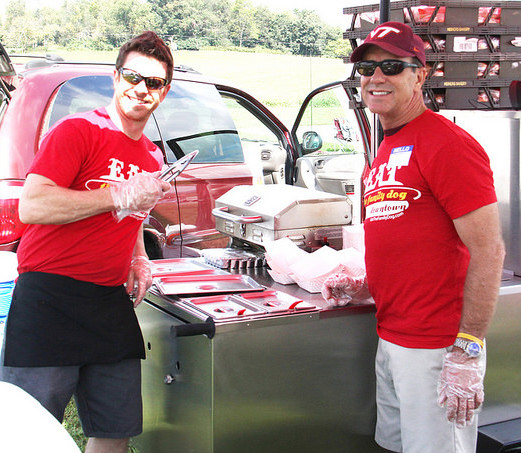 The local county paper also made an appearance and documented the whole event, landing us on their front page that week.
As for the rocket launch itself; it was awesome. NRV Rocketry maintains a special 10,000-foot FAA waiver for its launches, and boy did we used it! Some of these big rockets were over 12 feet tall, and powered by "M" motors as big as your leg (below). They ripped through the air, shook you to your bones and echoed off the valley's mountains. It was truly awesome!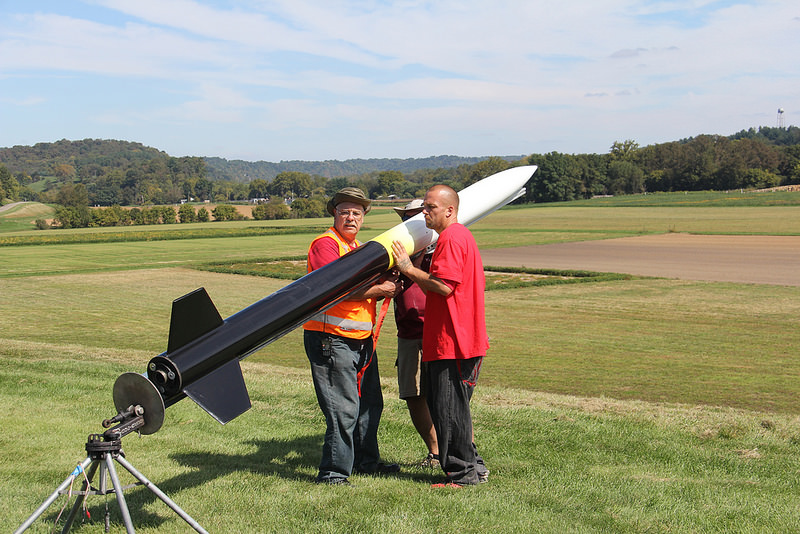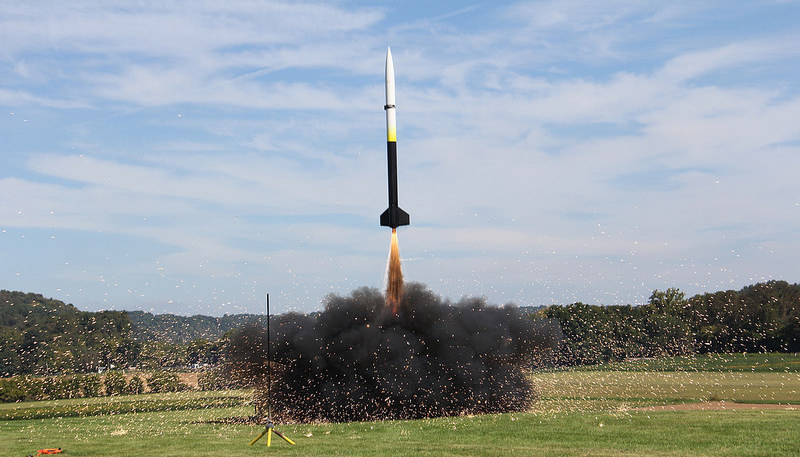 More event photos on flickr here, more info on NRV Rocketry here.
It was a beautiful day and an inspiring thing seeing local business, schools and Mr. Homer Hickam himself all join together to inspire young minds and showcase the benefits of STEM education.
It was also a really great feeling as a Racker to help Rackspace lead the community and be a part of fostering STEM in such a real and tangible way within our own community.
A huge thanks to all of our volunteers who helped make it all happen.
Racksburg Volunteers:
Doug Juanarena
Steve Swenson
Deanna Murphy
Meirav Setchel
Tweeks
Virginia Bioinformatics Institute (VBI)
NRV Rocketry Volunteers
VTARA Ham Group
VTech AIAA (Aerospace) Group
VTech SEDS (Space Exploration) Group
Interested in Jobs in our Blacksburg Dev Offices?
See here for a current list of openings in Blacksburg.