Mike Mayo is the mobile apps developer for Rackspace. If you're interested in joining his team, click here.
Today I'm excited to announce the release of Rackspace Cloud 2.0 for for the iPhone, iPad and iPod Touch – something I've been working hard on to build.
This app is a complete rewrite of our existing iPhone and iPad apps, and is now universal.  You can run this app on an iPhone, iPad and iPod Touch.  Rather than having separate apps for iPhone and iPad, we can now push out new features (like Opscode's Chef Bootstrapping!) to all iOS devices at once.
Another important thing to know about this app is that it's open source and part of the OpenStack project –  the open source software that powers the Rackspace Cloud.  The source code to the OpenStack iOS app is available at http://launchpad.net/openstack-ios.
Here are a few notable features in the app:
Support for Multiple Accounts and API Endpoints
You can now manage as many Rackspace Cloud accounts as you want.  You can connect to the US and UK clouds, as well as any custom OpenStack cloud you may be running.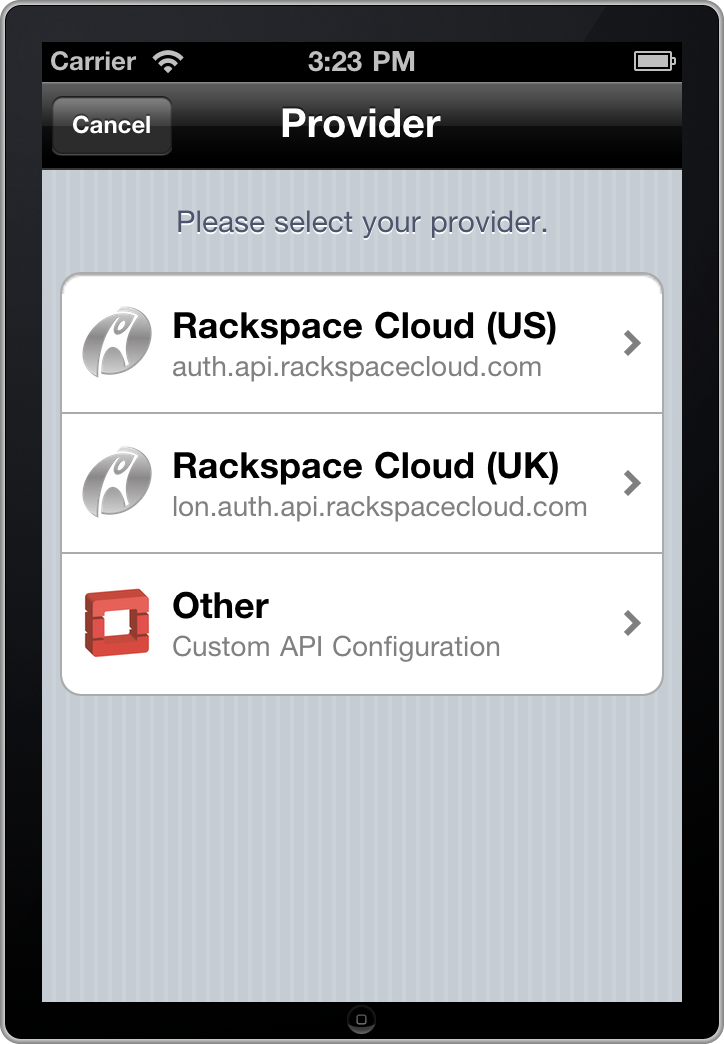 Need for Speed
In the old apps, you would have to wait for several seconds to log in and load data for your Cloud Servers, images, and sizes.  Now all of that data is stored locally so you can get to it very quickly.  You can literally reboot a server in just a few seconds!
Passcode Lock with Data Wipe
Your cloud resources are extremely important and should be protected.  With the new app, you can turn on a passcode lock to prevent others from tampering with your servers or files.  You can even turn on a data wipe feature that wipes the app of all account data after 10 failed login attempts.
Create Multiple Opscode's Chef Bootstrapped Cloud Servers at Once
You can provide a Opscode's Chef run list when you create Cloud Servers and create up to 10 servers at a time.  Need 5 new web servers in your cluster?  You can have it in less than 30 seconds from your iPhone.
IP Addresses
On the new Cloud Server screen, when you tap an IP address, you can choose to copy it to your pasteboard, ping it from 50 locations around the world, or open it with an SSH client installed on your device (such as the excellent iSSH).
Detailed Error Handling
If a call to the Rackspace Cloud API fails, you can see exactly what happened by pressing the Details button.  You'll be able to see a complete equivalent curl command for what the app was trying to do, as well as the HTTP response from the API.  You can then email that to troubleshoot further.
Fanatical Support in Your Pocket
You now have full access to our Cloud Servers and Cloud Files System Status RSS feeds, as well as buttons to contact us directly via phone or Twitter.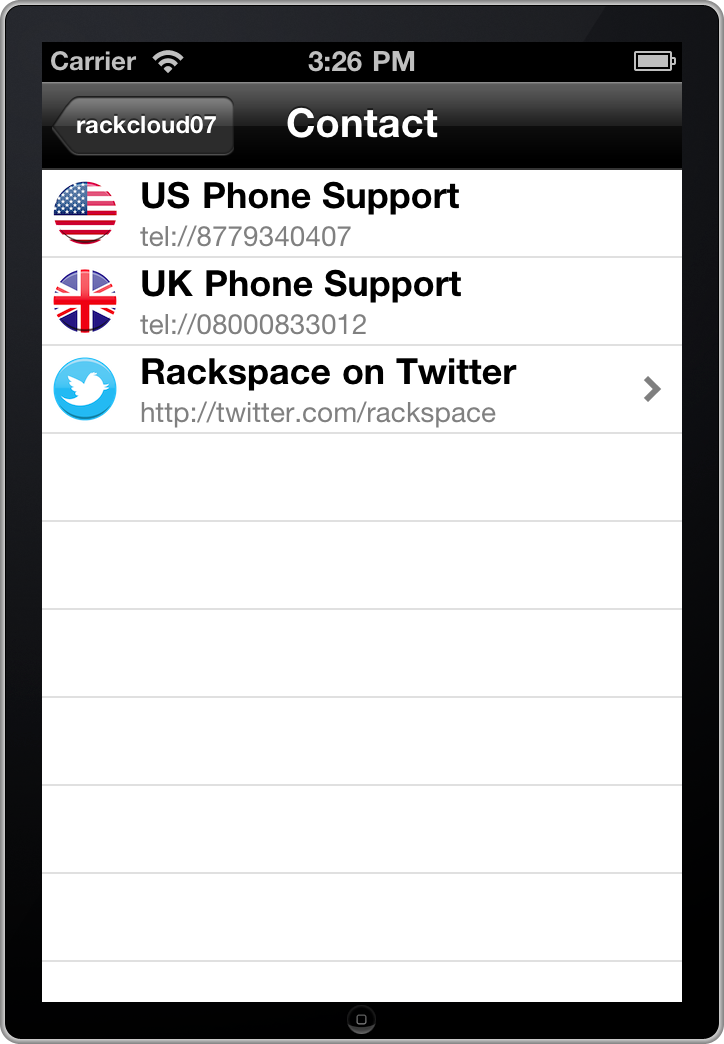 Awesome CDN Support for Cloud Files
You can completely control everything regarding your CDN enabled Cloud Files containers such as change the TTL, logging, ACLs.  If you have the Twitter app installed on your device, you can even tweet links to your files.  You can also share files via email –  a great way to share photos and video while still having complete control of where your files are stored.
View and Print Cloud Files
When you download a file from Cloud Files to the app, it will try its best to open it.  The app can open text files, PDFs, audio, video, images, and office documents.  If the app can't open it, it will check your device to see if any other app can and if so, it will give you that option.  Also, if your file is printable, you can print to a printer on your network directly from the device.
Other Features
– Accounts can be sorted for easy access to your most important accounts
– Reboot, rename, resize, and rebuild your Cloud Servers
– Change the root password for your Cloud Servers
– Manage backup schedules for your Cloud Servers
– Delete Cloud Servers
– Create and delete Cloud Files containers
– Create folders in Cloud Files containers
– Create media (photos and video) and text files in Cloud Files containers
– Delete Cloud Files
– View your API rate limits
We are very excited to give you this app free in the App Store, and we hope you enjoy it.  If you need any help with it or want to know more, feel free to get in touch with me via email or Twitter.
We're Hiring!
If you think this app is cool and would like to help make it (and Android) even better, join us in our new San Francisco office! Click to learn more.