Rackspace Cloud Block Storage is part of our next generation Rackspace Cloud and is now in Preview testing. We have received a huge amount of interest and several questions on this offering so we want to give some additional details.
Two Flavors To Pick From
Rackspace Cloud Block Storage has been designed to serve two very distinct use cases:
1. customers who need to scale their attachable storage independently from their Cloud Servers
2. customers who need high performance storage for databases or I/O intensive applications
Because these use cases have different needs, Rackspace built two solutions that make up the Cloud Block Storage product. The basic performance tier gives customers that simply need more attachable storage a low cost solution based on commodity drives. The high performance tier will allow customers to take advantage of speedy solid-state drives.
How Rackspace Cloud Block Storage Works
The diagram below illustrates the Cloud Block Storage architecture: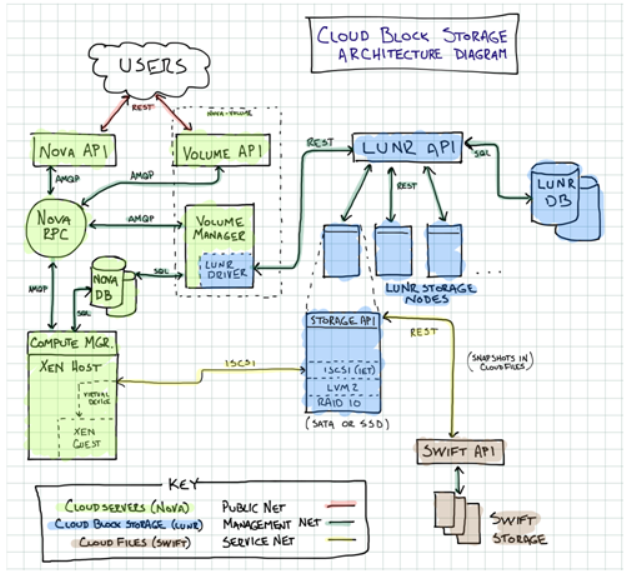 For Cloud Block Storage, we started with the Nova Volume API of OpenStack as the core interface. We then created an internal storage system called Lunr as the storage system behind the Volume Manager API. This storage system builds on top of standard Linux technologies and commodity hardware. Lunr integrates with OpenStack Nova through a nova-volume driver. Cloud Block Storage API requests are made through the OpenStack Nova Volume API and passed on to the Lunr API.
Volumes are provisioned in Lunr and attached to the Cloud Servers Compute host via iSCSI. The host then exposes the volume to the guest as a virtual device. Backups of the volumes can be made as snapshots and are stored in Rackspace Cloud Files (Swift Storage). Our storage nodes can be populated with either high performance solid state drives (SSD) or standard hard drives.
Features & API Operations
Cloud Block Storage uses the following API operations to attach volumes to Cloud Servers powered by OpenStack and manage the volume attachments:
Create/Delete Volume
Attach/Detach Volume
Volume Snapshots
List Volume Snapshots
List Volumes
Create Volumes From Snapshot
Choose Volume Type
Choose Volume Size
Simple Pricing
We built a unique and simple pricing approach for Cloud Block Storage. Unlike other cloud providers, our simple pricing model is not based on input/output operations per second (IOPS), since the vast majority of businesses don't know and often can't control their IOPS. We will offer a flat rate per GB of storage. Final per GB prices are not set yet, but will be very competitive.
Currently In Preview (Beta) Testing
Rackspace Cloud Block Storage is now in Beta/Preview stage which means our Engineering and Product teams are gathering feedback, tweaking system performance, fixing any bugs and perfecting our Fanatical Support for the product.
We've had an overwhelming response to the CBS Preview so we are asking customers (which have been invited to the Preview) to complete a survey and we are using the survey responses to prioritize a good mix of use cases, performance testing, etc. We still have a number of customers in our queue to get access to Cloud Block Storage Preview and may invite more customers if needed.
We are very excited about this offering and we're working hard to launch it into Unlimited/General Availability soon after the August launch of our open cloud based on OpenStack.