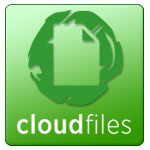 Over the past year I have had the privilege of managing the Cloud Files™ product line and during that time we have completely re-architected the infrastructure, deployed in 3 datacenters worldwide and migrated all customers off the old system (which numbered in thousands of customers, billions of objects and petabytes of data). We open-sourced our Cloud Files™ source code which became the  OpenStack™ Swift™ code base of which our team developed.
The result, while not transparent to you the customer, should give you the peace of mind that you are consuming a storage platform that has been adopted and put in production by an OpenStack partner, NASA, who is storing objects on OpenStack Object code, the world's most valuable data that is literally "mission critical."
With that said I would like to walk you through some new features available in Cloud Files and early next year I'll provide a glimpse into the plans for 2011. We have some very exciting news to share with you next year – stay tuned!
New Features
Flexible Prefix-delimiter Support
– Added support for flexible pre-fix delimiter queries on container listings.
– Delimiter queries are a more generic form of the path query (or the path query is a specific implementation of the delimiter query). Delimiter queries allow you to use any single character as a directory token, and it will "roll-up" all objects under that token in to a virtual directory. The most common character for delimiter is "/". Walking a directory structure, then, becomes a combination of prefix and delimiter requests, and does not require any directory marker objects to work.
Content-type Detection
This feature automatically detects the type of object in a container if a content-type isn't specified. This enhancement makes for a better end-user experience by limiting end-users from having to guess what application to use to consume the content.
Server side Object Copy Support
Suppose you upload a file with the wrong object name or you needed to move some objects to another container. Without a server-side copy feature, you would need to re-upload the same content and delete the existing object. With server-side object copy, you can save the step of re-uploading the content and thus also save the associated bandwidth.
Lower Bandwidth Pricing
On 12/17/2010 we lowered our Public & CDN Bandwidth prices to $.18/GB from $.22/GB for Cloud Files and Cloud Servers.
SAS 70 Type II Reports Available
– Rackspace has received the final report for our SAS 70 Type II reports that now covers Cloud Files, Cloud Servers and all of our global datacenters. SAS 70 audited reports are available for customers and prospects to review!
– SAS70 (known as Type II Audit after 2010) is a widely recognized auditing standard that showcases how a service organization has performed, based on an in-depth audit of their control objectives and activities. The control objectives and activities are determined by the organization, and are based on established policies and procedures within the organization.
If you are a customer and would like to receive a full copy of this report, please contact us
Thanks for your time and a very Happy New Year to all.