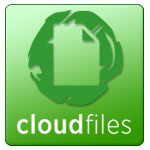 In their continuing tests of cloud computing services, Network World recently did tests on a series of cloud storage providers, including Rackspace Cloud Files. Other services tested were Amazon S3, Egnyte's On Demand File Server, Nasuni Cloud Storage, and Nirvanix's Storage Delivery Network.
Here's what the tests encompassed at a glance:
Accessed the cloud vendor's site through their supplied APIs, where applicable.
Moved data either from virtual machines in their cabinet at n|Frame in Indianapolis at 100Mbps, or from their lab connected via standard Comcast broadband.
Pounded each site with a variety of file sizes ranging from 500KB to 1GB.
Tested in two periods, daytime and nighttime, to see if Internet congestion played a role in cloud storage performance.
Network World quotes:
Rackspace delivered the best overall performance, with an average speed 2.57Mbps for uploads and roughly 650Kbps for downloads.