As we promised in May, we're adding new features and making changes to Rackspace Cloud Sites on a more regular cadence and there are more feature additions, site improvements and product changes on the way. One thing to keep an eye out for is integration with the new Cloud Control Panel, which is under development. For now, Cloud Sites will continue to be accessed from the existing control panel. And that's just one of many things to come. Here is a more comprehensive list of what to expect in Cloud Sites into early 2013 (click image to enlarge):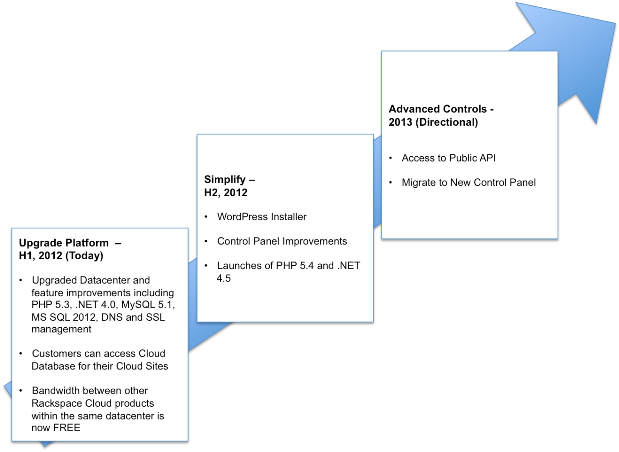 PROGRESS THROUGH 2012
There were numerous upgrades and new capabilities added to Cloud Sites in the first part of the year.
Upgraded platform to address customer requests: In addition to our SAT datacenter migration, we launched PHP 5.3, .NET 4.0, MySQL 5.1 and Microsoft SQL Server 2012. We also added DNS management updates and SSL Certificate management in the control panel, which improved the platforms' stability and performance, and provided customers with additional self-service functionality.
Use Cloud Databases on Cloud Sites: Cloud Sites users who want the performance benefits of a dedicated database instance can use Cloud Databases today. Please note that to enable all of the latest advanced features and capabilities, all management of Cloud Databases is done through the next generation Control Panel.
No Charge for bandwidth within datacenter: Cloud Sites has just enabled ServiceNet connectivity to other Rackspace Cloud products within the same datacenter. This means the end to bandwidth fees to and from other Rackspace products within the same datacenter.
COMING IN 2012
WordPress Installer: Many of our customer's host hundreds of WordPress Sites on Cloud Sites. Installing large numbers of WordPress sites is time consuming and difficult, so we will offer a new feature to quickly install WordPress on Cloud Sites via our control panel. The WordPress Installer is expected to be part of the Cloud Sites add site process early in the fourth quarter of 2012.
Simplified control panel: There will be several control panel enhancements to improve the customer experience and speed our entry into the new Rackspace Cloud Control Panel. These improvements include the simplification of processes related to adding sites, database management and usage reporting.
A major part of this control panel simplification is the removal of client hosting plans, client products and client messaging. You will still be able to add Sites to your primary account or to your sub-accounts (clients) from within the control panel.
Client Hosting Plans – The client hosting plan selection required all customers to select an amount of resources for each of their sites or their clients' sites, primarily for billing purposes. This feature did not limit or restrict what could be consumed. Requiring a plan selection is an unnecessary step that provided little value and was often confusing and misleading to customers. This change does not remove any functionality. Your clients can still consume the resources that they need, when they need them.
Client Products and Messaging – These features were related to client billing, which is no longer a portion of the Cloud Sites offering.
Technology Improvements: PHP 5.4 and .NET 4.5 will launch in the fourth quarter. These technologies will live alongside PHP 5.3 and .NET 4.0 for a significant period of time so there is no immediate requirement to migrate to the newer versions. Microsoft Server 2012 will accompany the release of .NET 4.5.
Technology Upgrades: The upgrade from PHP 5.2 to PHP 5.3 has been extended to August 31. Sites will upgrade to PHP 5.3 after August 31. Customers can manually upgrade sites to PHP 5.3 using the steps detailed in this article, but we encourage our customers to allow us to do the upgrade for you. Note that if you do perform the upgrade yourself, you will be unable to revert back to PHP 5.2. The upgrade for databases, including MySQL 5.0 to 5.1 and Microsoft SQL Server 2008 to Microsoft SQL Server 2012, will begin in January 2013.
COMING IN 2013
Access to API: We are working on public access to the API and expect this to be ready in 2013. This is a big change and it requires significant upgrades in our existing architecture. We are making many of the above changes to prepare us for this public API launch. Thank you for your patience.
Cloud Sites in the new Cloud Control Panel: Cloud Sites is preparing for integration into the next generation Rackspace Control Panel. Please continue to access Sites through the existing cloud control panel as we prepare Cloud Sites for the integration. We will also have a single sign-on to direct customers between the new Cloud Control Panel and the Sites control panel for easy maneuvering across interfaces.
Thank you for your dedication to Cloud Sites and for all of your feedback. Please let us know what more you would like to see in Rackspace Cloud Sites through our product feedback forum. Keep an eye out for even more exciting changes to come!