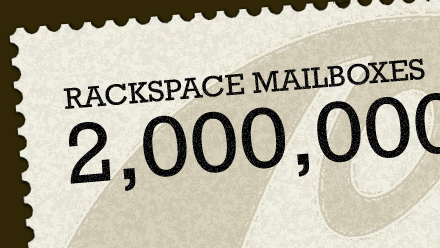 We're pleased to announce to have recently surpassed more than two million paid users of our hosted email offerings, which includes Rackspace Email, hosted Microsoft® Exchange and a hybrid offering of the two services. We thank our customers for helping us get here and can attribute that the following were key factors in accomplishing this milestone:
Reputation for helping businesses take advantage of a full portfolio of cloud offerings
Award winning Fanatical Support®
Cost savings through our unique Hybrid offering
Robust and familiar features like Microsoft Outlook®, Email Archiving and smart phone access in a business setting
Our Hybrid offering – a custom mix of hosted Microsoft Exchange and business-focused Rackspace Email platform on a single domain resulting in significant cost savings for businesses – served as a driving factor to this growth.  For example, using an average 80/20 ratio of Rackspace Email to hosted Exchange, businesses can save more than 60 percent on email with Rackspace Hybrid Email compared to hosted Exchange alone, and significantly more than hosting their own email in-house
Hosted email is gaining traction in enterprises as more companies realize they no longer have to hassle with managing their own email servers, and would rather focus the time and resources to innovate in their business. If you're interested to learn more, please contact our sales team at 1-866-201-7852 or catch us in live chat from rackspace.com.