Just two months ago, we launched a new Sydney region and brought the Rackspace Hybrid Cloud "down under." Today, our cloud is now available in a new Northern Virginia (IAD) region. This brings our total global region count to five: Dallas, Chicago, Northern Virginia, London and Sydney. We're not slowing down and are actively building out another region, so stay tuned for an additional launch soon!
All Rackspace infrastructure cloud products are available in this new region, including Cloud Servers, Cloud Files, Cloud Block Storage, Cloud Networks, Cloud Load Balancers, Cloud Databases, and Cloud Backup. You may of course leverage our global products, Cloud DNS and Cloud Monitoring, with your IAD deployment. In addition, Managed Hosting customers in our IAD2 and IAD3 data centers can now leverage the Rackspace Hybrid Cloud through RackConnect, which seamlessly connects dedicated environments to the cloud. This has been an often requested capability which we are now pleased to make available. Our IAD products have been deployed using the latest hardware and networking technologies and are powered by OpenStack, the world's leading open source cloud operating system.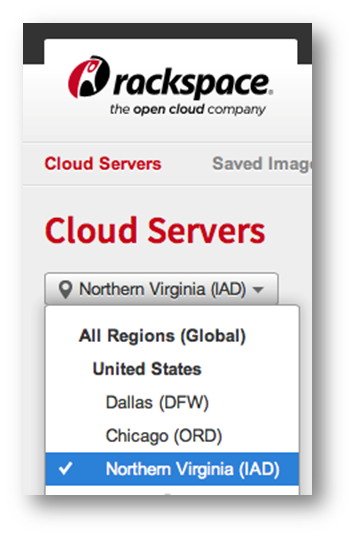 You may provision cloud resources in the Northern Virginia region through the Rackspace Cloud Control Panel; using our Python, Java, Ruby, .Net, node.js and PHP SDKs; directly via REST APIs; or with any OpenStack or third-party tools or applications that leverage those APIs.
Pricing for all cloud products in the Northern Virginia region is the same as Chicago and Dallas. This provides consistent pricing across all US regions, allows us to aggregate usage across regions to maximize your price tiering discount and simplifies region selection, allowing you to place workloads where they make the most sense for you independent of price.
Regions are important because they provide you choice to leverage the cloud in specific geographic locations based on requirements like customer proximity, data jurisdiction, geographic separation for disaster recovery, network latency to datacenter or colocation space, etc. Our Northern Virginia region also has close physical proximity to Amazon's US East region, so customers looking to migrate or take advantage of a multi-vendor public cloud strategy can now easily move data between the two clouds (in our testing, we've seen an average latency of less than 3 milliseconds).
We hope our new Northern Virginia region enables you to achieve more in the cloud. Like all our services, we stand behind them ready to provide Fanatical Support to help you be successful. If we can help in any way, please let us know.