For the third consecutive year, InternetRetailer.com has named Rackspace the No. 1 hosting provider to the top 1,000 retailers in the US; a recognition that shows Rackspace is a true retail hosting specialist.
InternetRetailer.com tracks the moves of the top 1,000 retailers in the US and is widely recognized as the most credible provider of objective business information on the market trends, technology, competitive practices and people that shape e-commerce.
In the newsletter titled "Introducing the Top Vendors to the Top 1000!" published last week (Aug. 23, 2013), Internet Retailer announced that Rackspace hosts 78 retailers from top 1000 retailers in the country, more than any other hosting provider in this category by a great margin. That makes Rackspace the No. 1 hosting provider to the top 1000 retailers for the third consecutive year.
Why retailers continue to trust Rackspace for their hosting needs?
"The hosting company holds our heart in their hands. They can shut it down any time if they make any mistake. We need to know that our heart surgeon is the best in the world and the person is going to keep us running and healthy all the time. We feel very confident with Rackspace Hosting in giving our heart – our entire online store – in their hands," says Greg Selko, CEO of Rackspace customer Karmaloop, summarizing why he trusts Rackspace to host his retail site. Karmaloop is the leading online retailer in street wear and cutting edge fashion, and is a one-stop shop for the verge culture. During the 2012 holiday season, Karmaloop's sales were up 60 percent from Black Friday to Cyber Monday and overall sales growth was up 40 percent year to date. Karmaloop's ranking on the "Internet Retailer Top 500 guide" jumped from No. 138 in 2102 to No. 118 in 2013 – all while hosting with Rackspace.
Rackspace is not just another hosting provider to retailers but it is a retail hosting specialist. Here are top five reasons Rackspace is a retail hosting specialist.
1. We understand unique ecommerce hosting needs of retailers
When your business is ecommerce, your website isn't only mission critical, it's business critical — so it's important to build a site that is secure, scalable and highly available. We understand the unique hosting needs of ecommerce stores, including high availability and faster page loads. Based on our experience in helping thousands of retailers, we have built ecommerce reference architectures using our hybrid hosting portfolio. We offer Critical Application Services and provide a 100 percent production platform uptime guarantee. Rackspace can help you to load your pages faster by delivering these web pages globally at blazing speeds over Akamai's content delivery network (CDN) and by helping you tune your applications, databases, web servers and load balancers for faster page loads.
2. Our trained and experienced experts can help you plan for holidays or any other load surge
According to the National Retail Federation (NRF), the holiday season can represent anywhere between 20 percent and 40 percent of annual sales for retailers. In 2011, holiday sales represented 19.5 percent of total retail industry sales. Thus preparing for the holidays is business critical for your holiday and annual revenue. Rackspace's hybrid cloud portfolio makes it possible for you to buy the base and rent the spike. We have helped thousands of retailers plan for their holiday preparations and Rackspace's trained staff can work with you hand in hand to ensure that you have a successful holiday season. Our Web Scale Engineers (WSEs) provide Critical Application Services and can help you run load tests during your pilot testing phases. Based on the results of the load testing and your anticipated holiday load forecast, our trained staff can provide you recommendations that can vary from vertical or horizontal scaling to caching for your database servers, web servers and load balancers.
3. Our application management expertise for ecommerce platforms really sets us apart  
Along with providing hybrid cloud hosting infrastructure and Fanatical Support for the overall environment, Rackspace offers application management expertise for ecommerce platforms.
Rackspace is a gold partner for Oracle. Our Oracle Commerce trained and experienced WSEs can help you architect, install, deploy, configure and monitor Oracle Commerce applications like Oracle ATG Web Commerce and Oracle Endeca. Our WSEs can also help you monitor your other Oracle Retail applications and provide you deep application insight. WSEs also offer a 100 percent production platform uptime guarantee for your Oracle Retail applications.
Rackspace is a platinum hosting partner for Magento. Rackspace has deep knowledge of, and experience building, Magento-powered stores. According to trends.builtwith.com, we have the largest install base of complex Magento installations, and every day we optimize infrastructure for our customers' Magento-powered stores. With our intimate knowledge of Magento's architecture, we can build quickly to help you meet your requirements—and deadlines. Plus, we work with many of Magento's top Solutions Integrators to fill any gaps, from installation to management on the application layer.
Our application management expertise allows you can focus on your business while Rackspace takes care of your infrastructure and ecommerce applications.
4. Our PCI compliance expertise help you to navigate through the complex maze
PCI comprises a set of policies and procedures aimed to protect personal cardholder information from misuse. PCI compliance can be a complex and costly exercise. PCI controls include building and maintaining a security network, protecting cardholder data, maintaining a vulnerability management program, implementing strong access control measures, regularly monitoring and testing networks and maintaining an information security policy. Rackspace has a breadth of experience with hundreds of customers' hosted environments. We can help you navigate through the complex maze by providing you infrastructure and solutions that can help reduce the scope and complexity of your compliance efforts.
5. We are a one-stop shop for all of your common retail hosting workloads
In addition to ecommerce, Rackspace can help you with other hosting needs. Whether you are working on leveraging big data technologies for better customer insights or expanding into mobile commerce, Rackspace offers hosting solutions to meet all of your broader needs beyond ecommerce. You can also trust us for your Test/Dev hosting requirements or hosting requirements to run various campaigns. Rackspace is a one-stop shop for your common hosting needs.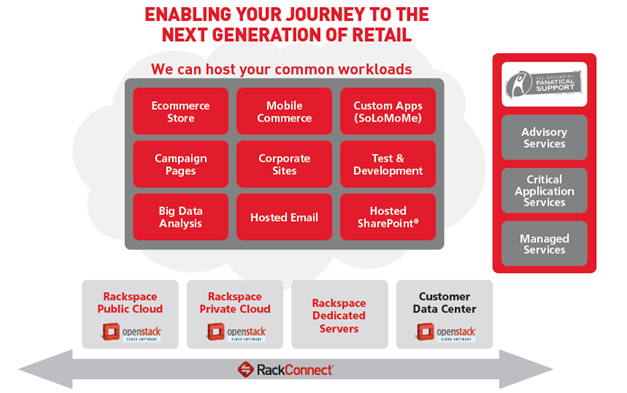 Rackspace is not just another me-too hosting provider to retailers; we are a Retail Hosting Specialist. We hope you have a successful holiday season. Feel free to reach out to us if you need any help for your holiday preparations.