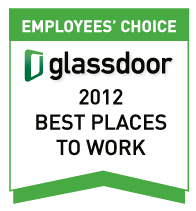 The survey results are in for Glassdoor's Employees' Choice Awards and Rackspace has been honored as one of the top 50 "Best Places to Work" in 2012. Rackspace (at #12) ranked high on the list along with companies such as Facebook, Google, Apple and Salesforce.com.  It's clear that the investments Rackspace is making in its employees and its culture are helping us build a company to be admired.
We asked Rackers what they wish they would have known before they worked at Rackspace. Take a look:
Glassdoor's list of top 50 "Best Places to Work" recognizes exceptional companies that have retained the support and commitment of their employees despite the tough economic climate, and the selection process is based solely on anonymous employee reviews and surveys.  Rackers provided positive feedback on several workplace factors including work/life balance, career opportunities, communication, compensation,  fairness and respect, employee morale, and senior leadership.
Click here to view complete list of the Glassdoor 2012 Top 50 Best Places to Work.