One of our goals at Rackspace is to make it easier for enterprises to deploy and manage private clouds. We've made great strides with the launch of Rackspace Private Cloud, powered by OpenStack® (dubbed "Alamo"),  which lets our customers go from bare metal to a private cloud in their own data center in less than an hour.
To make building a private cloud even easier, Rackspace today launched a new product certification program that validates that products and solutions from our technology partners are compatible with Rackspace Private Cloud. The program includes the Technology Alliance Program (TAP) that validates that hardware and platform offerings from vendors work well in conjunction with Rackspace Private Cloud; and the "Built For" program is for software vendors that build applications and application management solutions that are compatible with the Rackspace Private Cloud.
Our goal is to continue fostering rapid innovation while also enabling enterprise IT to deploy an OpenStack-powered private cloud that has the efficiency and robustness of Rackspace's very large public cloud. The product certification program for Rackspace Private Cloud opens the door for IT decision makers to choose an end-to-end certified product and solution set that has been validated and supported by Rackspace and its partners.
We use the same extensive interoperability-testing methodology we leverage for our public cloud. Through the Rackspace Private Cloud Product Certification program we will validate full private clouds stacks to help minimize risk and simplify decision making for enterprises in three important ways:
Comprehensive end-to-end, interoperability testing of large-scale private cloud environments – That means individual hardware and software components are integrated to create entire "stack" before they are tested. We use advanced automated testing tools and continuous integration to achieve this, similar to the methods used by our public OpenStack-powered cloud
Enterprise-ready private clouds – Our Private Cloud Quality Assurance and Interoperability Testing lab brings together innovation and enterprise stability by helping partners certify their products and solutions on Rackspace Private Cloud, powered by OpenStack.
Convenient access for building a cloud marketplace – The knowledge we create is directly available to customers on rackspace.com. Customers will find Rackspace's Private Cloud Software, lists of certified software and hardware stacks, as well as information about the sophisticated capabilities built into the Rackspace Cloud Certification Toolkit.
The Rackspace Private Cloud Product Certification program will capture the entire hardware and software stack as well as the configuration.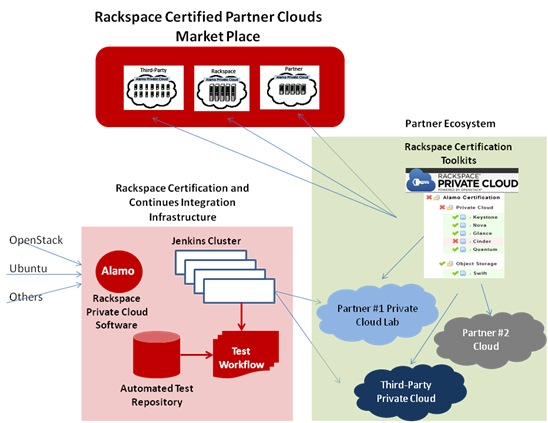 The Rackspace Private Cloud Product Certification Program enables partners to use the comprehensive test framework developed by Rackspace to certify their chosen private cloud stack. Registered partners can access the Certification Toolkit from their data centers and initiate the certification process by pointing Certification Toolkit to a Rackspace Private Cloud endpoint. This integrates with the Certification Workflow inside Rackspace data centers – which is a dedicated Jenkins setup modeled for our internal build and QA workflow – and initiates the build and test process. When the installation is complete, the Workflow runs the comprehensive automated test suite and presents the results to the partner via the Certification Toolkit. If any tests fail, the partner can drill down to a detailed error report to fix the problems. When the entire test suite succeeds, the partner can choose to post the certified stack to Rackspace.com.
And this is just the beginning; we are working on additional services such as continuous integration for certified Rackspace Private Clouds.
For more information on joining the Rackspace Private Cloud Product Certification program, please email rpcpartners@rackspace.com.
To download your free copy of Rackspace Private Cloud, visit http://rackspace.com/cloud/private/.