The newest version of Rackspace Private Cloud software is available for Early Access now, and it's based on the latest and greatest OpenStack release: Havana.
Because customer uptime is our No. 1 priority, we want to make sure we do extensive testing on the latest OpenStack code before we roll it into our production version of Rackspace Private Cloud. During our testing, we will keep our production version of the software (built on OpenStack Grizzly) alive on our site, while giving all of you early adopters and technology enthusiasts Early Access to the Havana-based Rackspace Private Cloud now. Please note that our Early Access software is not recommended for production use and is not supported by Rackspace.
The Early Access to the Havana version of our software includes some of the latest features such as:
OpenStack Orchestration (Heat)
The project allows administrators to create templates for application stacks that can then be deployed within an OpenStack cloud. These templates may include infrastructure resources like servers, floating IPs, volumes, security groups and users.
Why is this important? Take for example a development organization that wants to create staging, QA and production environments. When you need to innovate fast you want to spend less time managing and provisioning servers and networks. With these templates you can create an environment that includes all the virtual servers, network configurations, users and permissions needed, and then simply deploy these as a complete stack in a repeatable process. Code doesn't work and you need to roll back? No problem; delete everything and roll back to a fresh environment in minutes with the template.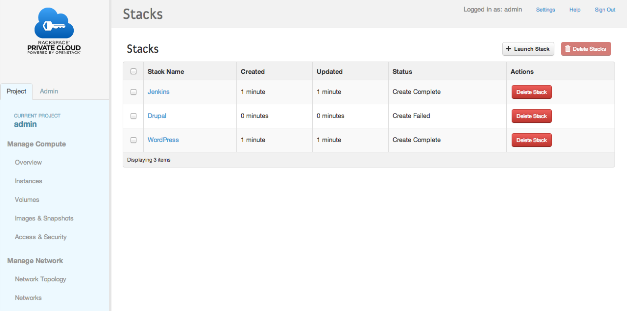 Layer 3 Routers for OpenStack Neutron
The latest version of Rackspace Private Cloud includes the ability to deploy Highly Available Layer 3 Network Agents. These virtual routers give you access to advanced routing functionality between VLANs within your private cloud, and remove the need for expensive hardware-based routing and switching equipment. All settings can be configured directly from within the dashboard.
Data Visualization for OpenStack Metering (Ceilometer)
Ceilometer is a metering and measurement project for OpenStack. Its purpose is to provide efficient collection of metering data in terms of CPU and network costs. Ceilometer tracks measurements of a resource, where a resource is an OpenStack entity (image, volume, instance, etc.) and can be used to find information like CPU time used, average CPU utilization, number of bytes read/write on a disk and number of incoming/outgoing bytes on a network for VM interface.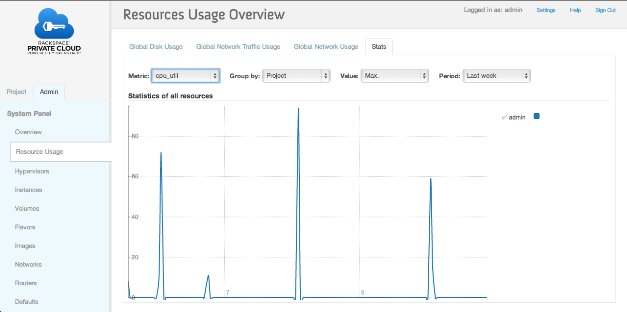 To download the Early Access release of our Havana-based software go to the Rackspace Private Cloud Software page, and then click the "Install Now" button.
We really value your feedback, so please email us as at rpcfeedback@rackspace.com to tell us about your experience with all the new features. You can also join the discussion in the Rackspace Private Cloud forums.