Neiman Marcus is known for their luxury specialty retail but you wouldn't know it until you walked in the door and purchased an item.
Lexus is known for their smooth, luxurious ride but until you have had the privilege of driving one, you won't be able to experience it.
And Rackspace is known for our Fanatical Support™ and it's something you can't experience until you're a customer… or can you?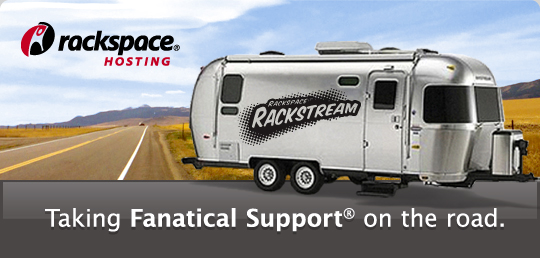 With Rackspace Rackstream, we're taking our Fanatical Support™ on the road and will be giving you an experience you won't forget. Our first stop is Cloud Expo West in Santa Clara and we want to show you how we can manage your Cloud, so you can focus on managing your business.
Relax, Tour the Cloud & don't forget to Check In.
While at Cloud Expo West, stop by the Rackspace 'You Manage Your Business' relaxation station and the 'We Manage Your Cloud' tour.  At the relaxation station, you can literally relax while having some food, drinks, and a massage. And while you're there, you can take the tour and learn how our Managed Cloud Service works with the monitoring and alerts system. If you check into Rackstream on Foursquare or Facebook, you could win some awesome Rackspace gear and other prizes.
Chance to Meet Robert Scoble
Also, get a chance to visit with Rackspace's Chief Learning Officer and one of the world's top media authorities, Robert Scoble.  He'll be at the Rackspace Rackstream November 8th-9th from 10:30 a.m. – 12:30 p.m.
What's your story?
Most importantly, we want to hear your story! We'd love to hear what interesting things your team is building on the Cloud, interesting startup stories, and why you chose Rackspace. Your story might earn you a spot on the Rackspace Cloud blog.
Ready to experience Fanatical Support™? We'll see you at Cloud Expo West.
Register now and use the Coupon Code rackspaceVIPgold (case sensitive). If you can't make it, send us your video or tweet about how Rackspace has helped you Manage Your Business (use the hashtag #rackstream). Best tweets and videos win a prize.