Back in 1998, three Trinity University students approached a San Antonio entrepreneur named Graham Weston with an idea to build an internet hosting company. The deal was inked – and the startup they launched was Rackspace Hosting. Today, Graham is Chairman of the company. One of those students with big dreams of making his mark in technology was Dirk Elmendorf, one of the founders of Rackspace. These days, Dirk spends time promoting the technology and services that make Rackspace unique to industry leaders, customers, business partners and startups. At the moment, Dirk is working on a new startup venture, TruckingOffice, which provides cloud-based software to manage small trucking companies. Dirk is a true promoter of the startup movement, and we are about to get inside this serial entrepreneur's head and find out why startups are so near and dear to his heart.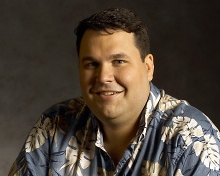 What do startups mean to Rackspace?
Rackspace is pulled forward into the future by its customers. Startups are small, but they have a huge influence on where the industry is headed. So it is essential that we meet the needs of these small players, because they help us prepare for what the rest of the market will want down the road.
What is your favorite startup story within Rackspace?
Rackspace became a leader in the managed hosting space. For some companies, that would have been enough.  They would have just carved out that space and defended it. Instead, people inside Rackspace saw that the needs of the customers were changing and it would mean that Rackspace itself would have to change to meet them.  We acquired SliceHost from St. Louis, and set about changing our thought process about who we hired, and what they do. Rackspace is more about software than it has ever been.  On top of that, we decided to double down on the value of Fanatical Support™ by open sourcing the technology stack. To me, that is a clear example of vision and courage, which demonstrates that the entrepreneurial spirit is alive and well in Rackspace.
Explain the entrepreneurial spirit within Rackspace?
We have always been an outlier. We were started in a city that is more known for the Alamo than technology. We have always built our team from people who were underrated, but are capable of incredible things. Even the idea at the center of our success, Fanatical Support™, is still just as controversial today as it was when we started 12 years ago. I still hear people say that it does not matter. It is a truly sustainable competitive advantage that Rackspace has had the vision to pursue. The proof of that is how hard it would be for any of our competitors to even attempt to copy it.
Why was the Rackspace Startup Program conceived?
Startups needed a different path into Rackspace. We strive to serve customers in the way they want to be served. This program allows us to tailor our outreach and resources to a very specific audience, one that is fast moving and opinionated.
What advantages does Rackspace cloud computing give a startup?
Rackspace allows startups to keep their technology options open. They can start purely cloud, and then segment things into dedicated or specialized equipment as necessary. They can also leverage Rackspace's experience in scaling to avoid mistakes early that really cost down the road.
What does Fanatical Support™ mean to a startup?
Fanatical Support™ means having a partner who is there for you. This isn't a contractor relationship.  Rackers really care about their customers. They want them to succeed!  Fanatical Support™ gives startups access to people with a lot of infrastructure experience so the startup can focus on what makes them different.
What is the best advice that you could give to a startup?
Focus on your customer. Don't be distracted by vanity metrics like web hits or free customers. If you do that, and do it better than your competition, they will help you achieve success beyond your wildest imagination.
If you could launch a startup right now, what would it be and why?
Actually, I did launch one. It is called TruckingOffice.  I love technology, but I am happiest when I can help the little guy. The freight industry is dominated by large players, but it is filled with tons of small businesses that do not have the tools they need to compete effectively. TruckingOffice helps the millions of small fleets (even fleets as small as one truck) do just that. I think this is a perfect example of what makes the cloud so powerful.  The scale and cost of the cloud allows them to serve a large number of customers at a very low price, which allows them to deliver technology to businesses that need it.
An Insider view of startups from someone who has been there, done that several times over with Dirk Elmendorf, one of the founders of Rackspace. The Rackspace Startup Program thanks Dirk for being a great friend to the program and his lifelong dedication to the startup movement in creating, mentoring and giving back to startups. Get all of the Insider information for your startup by contacting the Space Cowboys today!
Check out more news, articles and Startup Spotlight features from the Rackspace Startup Program.