Not so long ago, Rackspace was searching for a way to be attractive to startups in their very early stages. Startups don't have a lot of money when they're ramping up, and Rackspace wanted to find ways to give entrepreneurs exposure to our cloud services before they could afford it. The entrepreneurial spirit within Rackspace was crucial in creating the Rackspace Startup Program. One man who was instrumental in bringing the program to fruition is Rackspace Senior Vice President Pat Matthews. Coming from his own startup, Pat knows that startups are critical to Rackspace; and here he shares his inside knowledge from within Rackspace and the startup space.
What is your job at Rackspace?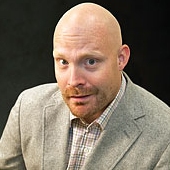 My title is Senior Vice President.  For the last two years I lead the cloud computing initiatives within Rackspace.  Now I am helping Rackspace transition to a cloud computing company — not just a company with a cloud computing division.  I oversee our core business as well as product, marketing, and each of our engineering locations outside of San Antonio, which include Austin, San Francisco, Atlanta and Blacksburg, Va.
What do startups mean to Rackspace?
Startups are critical to Rackspace. The cloud is an amazing platform for innovation that startups can easily and affordably leverage to get their business off the ground. We want as many startups as possible to build their businesses on our cloud. I really believe that most jobs in the future will be created from companies that haven't even formed yet. The future of the world economy relies on great startup innovation that is still to come. From a Rackspace perspective, that means a lot of potential growth for us. Also, it wasn't long ago that Rackspace was a startup.  We are still very much in touch with our startup roots and we want to help as many startups as we can.
Explain the entrepreneurial spirit within Rackspace?
There is a ton of entrepreneurial spirit within Rackspace. Rackspace is still a very young company and growing faster than most startups in early stages. We are fortunate to work with thousands of startups that are building their businesses on top of our cloud and hosting services.  Also, we've acquired six startups over the last few years and I imagine we will acquire more in the future.
You can just feel our entrepreneurial energy when you walk into our offices. We have 4,300 employees today, but in many ways we still operate like a startup. Rackspace is low politics and high energy, with incredible opportunity for people who work here. I think entrepreneurship is all about creating opportunities. We're growing fast and creating amazing opportunities for thousands of people. I think that's pretty awesome.
What is your favorite startup story within Rackspace?
I'm most impressed with the Mosso story. Mosso was truly our first venture into cloud computing and it was actually an internal initiative.  Led by Lew Moorman, the company took a group of passionate Rackers, relocated them to a different part of San Antonio and allowed them to invent our future.  These Rackers took an idea, a vision, a passion and they went and made it happen. One of the reasons that it's my favorite story is because it happened within the company — that is not something you see very often. Most companies struggle with innovation, especially when it's something that will cannibalize their core business.
Why was the Rackspace Startup Program conceived?
We wanted to figure out how we can help startups in the very early stages. Early stage startups don't have a lot of money. We want to help startups get going. It comes back to the entrepreneurial spirit within Rackspace; we are a very entrepreneur-friendly company. I also believe that most companies that work with us will grow with us.  So there are certainly business benefits to the startup program as well.
What advantages do Rackspace Cloud Computing and Fanatical Support give a startup?
Startups are building the next generation of businesses on the cloud.  We can help there.  Early stage startups typically don't have a lot of money, so we can help there too.  But the main thing that makes Rackspace different from everyone else is our willingness to help.  We call this Fanatical Support.  Startups need to focus on creating value for their users and customers.  They don't need to spend a lot of time worrying about the plumbing behind the scenes.  Many startups are pushing the envelope when it comes to technology and thus the cloud.  This is complicated stuff and whenever complexity is involved, Fanatical Support is really valuable.
What is the best advice that you could give to a startup?
Focus.  Startups are normally started by smart and ambitious people. When you are really smart and ambitious, it's easy to imagine all the things you could take on.  More products.  More features.  More customers to target. But at first, you need to focus on getting started and creating value in some kind of unique way.  What is the one thing you can be truly great at?  Focus on that. Most startups fail not because entrepreneurs are dumb or lazy. It is because they don't focus.
If you could launch a startup right now, what would it be and why?
I really don't know.  I love high tech and Internet businesses.  I love companies that re-invent norms.  But I don't spend a lot of time dreaming about a future outside of Rackspace.  Right now I'm very focused.
An Insider view of how important it is for startups to focus, from Pat Matthews, senior vice president at Rackspace, a true entrepreneur and startup innovator. The Rackspace Startup Program thanks Pat for his dedication to the startup movement in giving back, staying connected and learning from startups. Get all of the Insider information for your startup by contacting the Space Cowboys today!
And check out previous installments of the Rackspace Startup Program Insider: