Content created by the Rackspace Startup Program comes in a various forms: Spotlights; Insiders; videos; events; and visits with accelerators, university programs, startup companies and the entrepreneurial communities are highlighted on the Rackspace blog. When we send out our content to our social networks, we know that the content will be repurposed within trusted channels.
But what happens if you find that your content is consistently being used online by unauthorized third parties? Distil can help. Distil is the first Content Protection Network (CPN) that stops malicious web scraping and empowers website to protect their content.
Distil got its start as an after-work project. The team, all working in cloud security, was scattered across the country, collaborating during free time to bootstrap a working product. The idea came after years of talking with digital publishers that dealt with content theft but lacked a clear solution to stop it. Within a few months, the Distil team created a functional product, acquired beta customers, closed on its seed round of funding and was accepted into the TechStars Cloud accelerator in San Antonio. From there, each team member left their job, joined Distil fulltime and the rest fell into place.
"Our passion is fueled by our excitement to build something new and innovative. We genuinely believe that Distil will disrupt the current view on how to deal with content security and we are excited to bring this to the world," explains Rami Essaid, CEO of Distil Inc. "We are preparing our infrastructure for additional scaling and feature sets.  We're also working on our messaging to re-educate the web that transparent content protection is now possible with Distil. We envision becoming the thought leaders on content protection."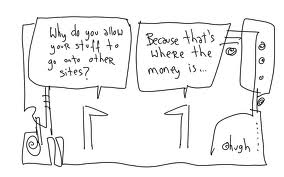 Being first in the CPN space is what Distil has achieved. Being the thought leaders on content protection is what Distil strives for in the future. The Distil mission is simple – to provide enterprise class protection safeguarding commercial and individual content producers. With Distil's CPN, there is finally a solution to protect your content, your brand and your revenue without impacting your end-user experience. The Rackspace Startup Program congratulates Distil for its vision in online content protection and for being part of the inaugural 2012 TechStars Cloud class in San Antonio. Well done gentlemen, well done!
Are you an entrepreneur with a startup idea to revolutionize the cloud? If so, the Space Cowboys would like to hear about it. Send us a message if you are searching for the rocket fuel to launch your startup. We look forward to hearing from you soon!