As most entrepreneurs know, boostrapping can be a tricky path—especially when the founding team isn't flush with cash. At Maptiv8, which transforms big data into beautiful UX, we know the realities of bootstrapping all too well. But over the past three years of our bootstrapped journey, Maptiv8 has scaled its operations, kept its team lean and pivoted towards larger markets—all thanks to the Rackspace Startup Program.
It began back in the Spring of 2012.  Maptiv8 was then GradMap and our focus was visualizing university alumni networks to drive fundraising and (re)connection. Having successfully worked with UC Berkeley's Haas School of Business to pilot 2,500 alumni on the platform, Haas asked GradMap to scale the roll-out to serve 12,500 alumni within a few months.
We were running a simple LAMP prototype on a single DreamHost box, and we knew we needed to scale our backend architecture and infrastructure to reliably serve more users. But DreamHost couldn't offer us the boxes or guidance we needed, and we were new to the world of scaling up.
Enter Rackspace's Startup Program.  The serendipity of SXSW helped us discover the program in March of 2013, and by June we had flipped the switch on a supercharged GradMap running on Rackspace Cloud. When the fall rolled around, our servers beautifully handled those 12,500 alums, and we began to approach a number of other educational institutions to sell the same offering.
We soon learned a funny thing about institutional sales in education: They take forever—especially if your company is a startup or new to the market.  Sales lead times stretched on endlessly, and we couldn't scale our business around the education market.  We had to pivot.  And we had to stay lean.
Enter the Startup Program once again. Though we were operating with a very small team, GradMap was still able to keep its servers running for Haas thanks to Rackspace's fanatical support. When we noticed performance slowdowns or other server issues, we could leverage Rackspace's in-house experts to quickly and professionally fix the issue.
That incredible level of service enabled us to stay focused on our pivot, rather than bloat our team with sysadmin and sysops resources. Haas now runs over 100 Maps accessible to 25,000 alumni and students, and most recently ran a Map for its annual alumni networking celebration, where hundreds of attendees used our software to connect before and after the event.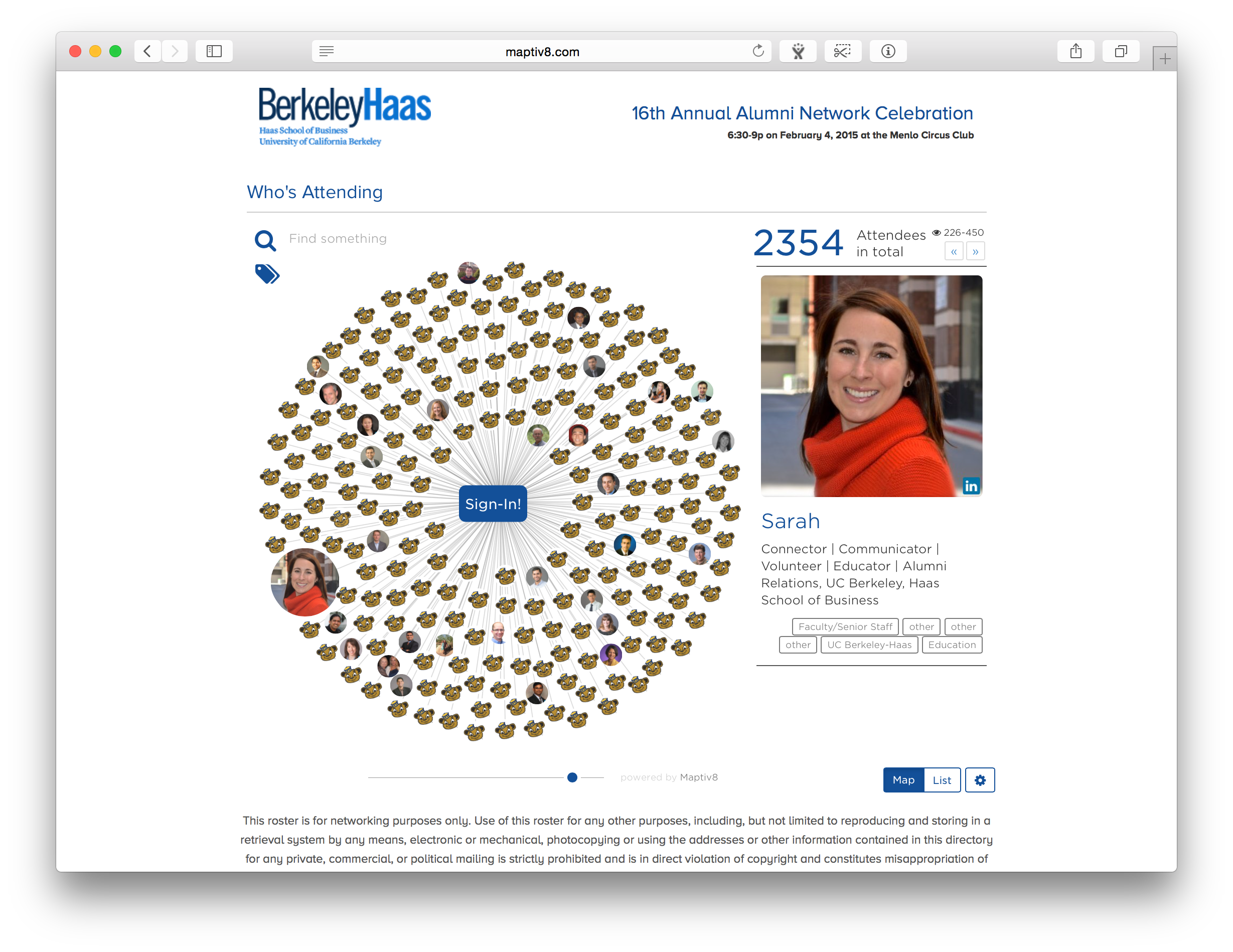 Running our servers through Rackspace Cloud and its incredible service team enabled us to provide these Maps for Haas while exploring new markets and a repositioning the company as a whole. Last Spring we relaunched GradMap as Maptiv8, which focuses less on private communities and more on transforming big data into beautiful (and embeddable) UX. We found an incredible pilot customer in the online recruitment firm Hired who engaged us to create an interactive visualization of thousands of job offers, updated weekly.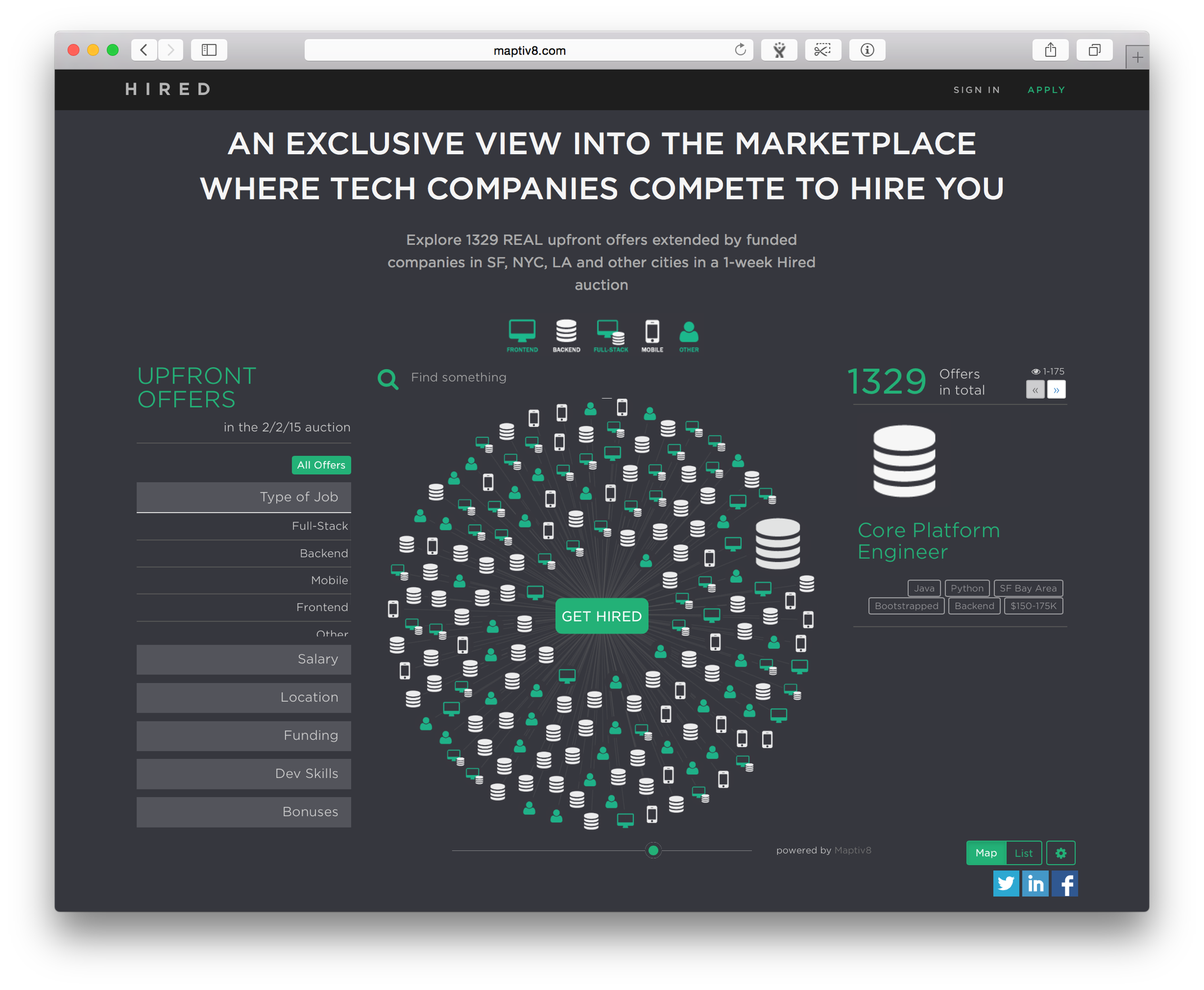 We then launched (and continue to maintain) a Map of 1800+ employers for Hired, which the company uses as a marketing tool to engage prospective applicants. Currently, Maptiv8's landing pages for Hired are among the highest-performing pages in the company's marketing department.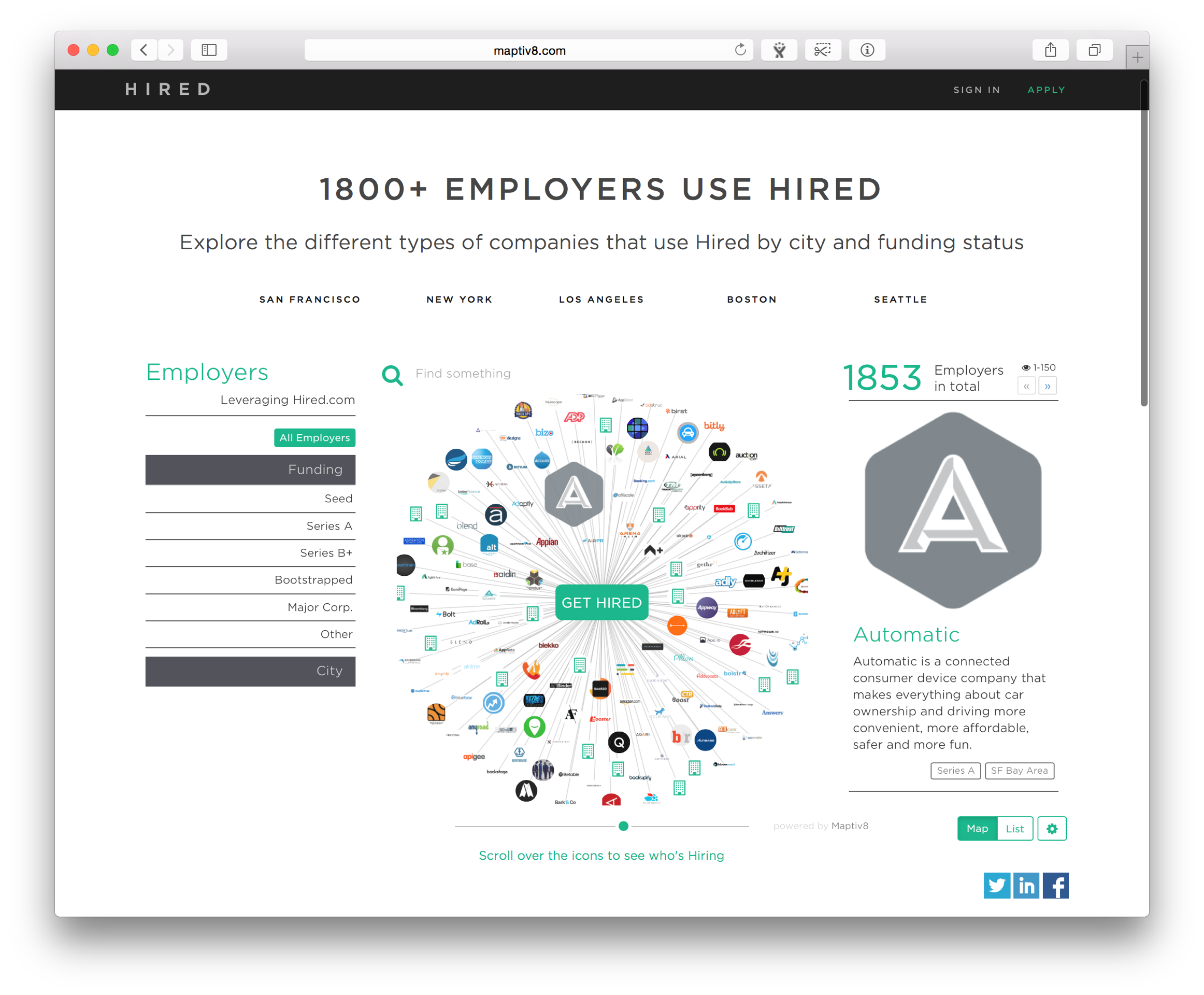 Thanks to the customers who have supported us throughout our pivot—and to the Startup Program that gave us access to Rackspace's phenomenal servers and support—the future of Maptiv8 looks exceedingly bright.
Proudly powered by Rackspace Cloud, our ever-improving platform now serves a multitude of visualization applications, from marketing and community engagement to digital dashboarding and ecommerce. We're beginning to revolutionize UX by offering the world data-driven interface as a service. This powerful offering would never have been possible without Rackspace and its Startup Program.