You're at a concert, mesmerized by your favorite band, when the impulse hits you to pull out your smartphone and record the moment forever. The next day, after decompressing from last night's excitement, you jump onto Outlisten and upload your concert footage. Outlisten is a website dedicated to bringing artists and fans closer together. The site takes fan shot concert footage and syncs together any overlapping moments, turning an audience into the cameramen for the artists. It's a great way to make a fan feel like a part of their favorite band's legacy, and a great way for bands to engage their fans in a whole new way.
Outlisten got its start at small cafe in Santa Monica, Calif. "In my previous life I was an editor," explains Jeff Ponchick, co-founder of Outlisten. "I had to cut together a sizzle for a hidden camera reality revenge date show which the production crew completely screwed up. Sifting through tons of shots and syncing them manually, I was stressed about missing my deadline when I found a way to do it via audio synchronization. It solved my problem and I had a light bulb moment, realizing everyone at concerts is theoretically recording the same audio, so maybe we can make sense of it all."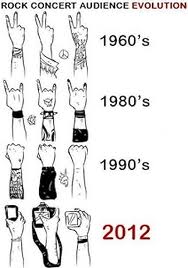 The Outlisten team was then chosen to be part of the inaugural class at the Los Angeles rapid accelerator program Start Engine. Partnered with proven business mentors, the team began developing the product and the brand while sharing collaborative ideas with other startups. What materialized was a completely new way to interact with your favorite band. Outlisten takes your videos and makes it a part of the greater picture of the show you went to. Every video is one part of the greater whole. Uploading your video to Outlisten makes for a better finished concert clip. Plus, all the cool kids are doing it.
"We love music and we love going to shows," concludes Ponchick. "We feel that the big players out there are doing a sub-par job of making the live music scene fun and engaging in new ways. It's stale and we're here to change it up. A lot of passion comes from disrupting the industry. We're listening to our user base and making some changes to best serve their needs. Besides surviving the end of the Mayan calendar, I see Outlisten creating a celebrity. We want to show the world that someone came from our website and got popular by doing what they do best, playing a great live show."

Disrupting a vertical in the online space is what startups are doing globally. Outlisten is out to disrupt the live music scene by making it fun and engaging in a new way for artist and fans to connect. Much like the Rackspace Startup Program enables startups to disrupt their chosen space by providing them with a year-long program to provide hosting, defer capital expenditures and facilitate Fanatical Support™. If you are a startup with an idea to disrupt the online space, the Space Cowboys would like to hear from you today.
Check out more news, articles and Startup Spotlight features from the Rackspace Startup Program.