One of the most difficult aspects of b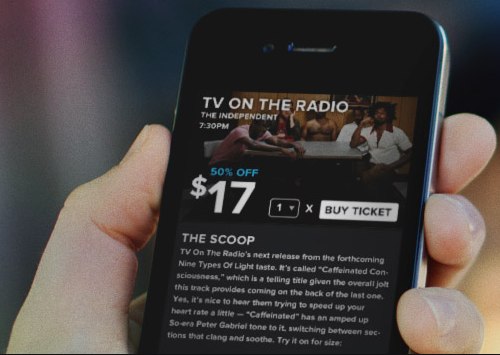 eing a road warrior is finding on short notice things to do in unfamiliar towns. Sure you can always walk into random concert halls, storm unknown venues or try your luck wandering the streets, but the probability of failure is high.
Enter Rackspace Startup Program participant Will Call. The startup emerged from the latest batch at 500 Startups and is described by founder Donnie Dinch as the Hotel Tonight for entertainment.
Will Call's mission is to ease the process of finding last minute events. It does this by leveraging a venue's remainder tickets and offering them up to users for half the cost. The catch is that tickets are only available to would-be show goers very close to go time.
On the whole, users should have decent luck getting tickets through Will Call. According to Dinch, 40 percent of tickets go unsold, so there's a lot to go around. Nevertheless, it's not intended to guarantee yourself space at a highly anticipated event, it's perfect for attending awesome events at the last minute.
Perhaps the most compelling aspect of Will Call, however, isn't its trove of remainder tickets, but instead its selection process. Instead of sorting through 100s of last minute ticket fire sales, the Will Call staff then apply a layer of curation on top of the remainder tickets. Meaning you're not left worrying you'll make a bad entertainment decision, because Will Call never lets bad decisions hit the app (you're responsible for what you do at the show though).
If you're thinking all of that sounds awesome, you're right — it is. But if you're thinking of running out and WillCall'ing a ticket, you're going to have to pump the brakes a bit.
Will Call is currently available only in limited beta in San Francisco. I'm told though that the team plans to expand aggressively in 2011. And maybe, if you check back, you might just find some beta invites here in the not too distant future.

Working for a startup? Always dreamed of starting your own business? Check out the Rackpace Startup Program to learn how Rackspace is supporting the future of startups.