Rackspace is committed to being responsible stewards of the earth as we reduce our environmental impact and contribute to the communities we serve. That's why we're hosting our 7th Annual Rackspace Green Day (April 24, 2013). We want to connect our employees and our communities with local resources that enable us to live, work and play in a more sustainable manner – in our Austin, London and San Antonio offices.
Austin Loves Puppies
Austin Rackers are celebrating Green Day in a new office this year, but they're going outside to do it. They significantly reduce their energy consumption by sending the majority of Rackers to work outside where Mother Nature provides the lighting and the air conditioning (after all, Texas is lovely in the spring). Austin Rackers also have a special place in their hearts for animals, so they celebrate Green Day by bringing their dogs to work.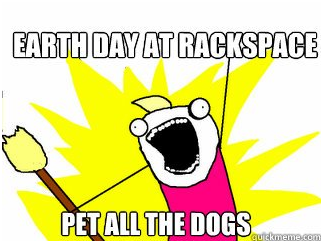 The Green Fayre in London
London Rackers have dubbed their celebration "Green Fayre" and will have several special guests onsite, including some goats, to teach Rackers about sustainable practices. Well, the goats may not actually be teaching per se, but Rackers will be able to see how soap and other products are made from goat's milk. London Rackers will also learn about the Eden Project and enjoy some recycled beats with a guest deejay – how's that for going green?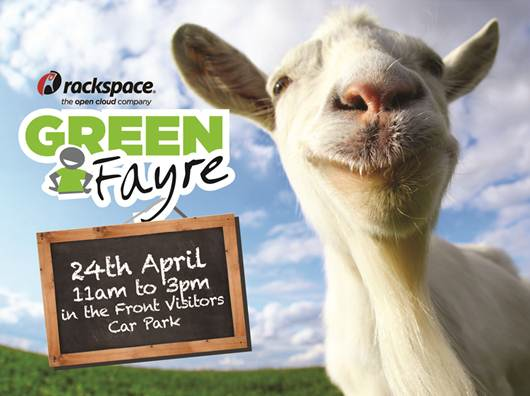 Green Day at the Castle
San Antonio's event will be free and open to the public. Attendees will learn about environmental conservation, get information on local utility rebates, recycle used electronics, understand proper recycling practices and try out some hybrid and electric vehicles. It's a great way to spend a few hours outdoors learning how to reduce your carbon footprint and make choices that are better for the earth.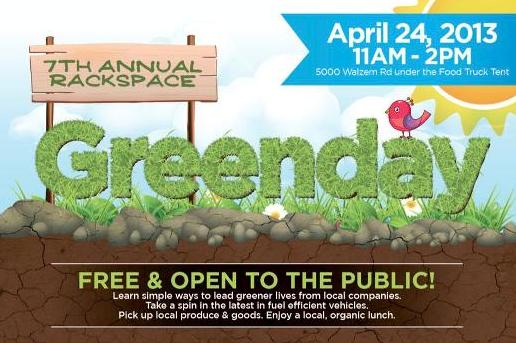 To learn more and see photos from our offices, check out Rackspace Green Day on Facebook.