Want to know how other customers and like-minded companies use the Rackspace Cloud and our portfolio of products?
Introducing Rackstories, the Rackspace customer culture portal brought to you by Rackspace's Customer Reference Program. Rackstories is filled with customer stories, case studies, videos, technical content, customer quotes, logos and more from Rackspace customers who have agreed to let us tell their story, complimented with customer-generated content direct from the source.
Inside Rackstories, it's all about the customer. The website is packed with interesting customer content to give you an inside view at our customers and their successes. Keep up to date with stories, testimonials and articles about Rackspace customers and share them with your friends or via social networks. Rackstories will be updated with fresh content as it becomes available.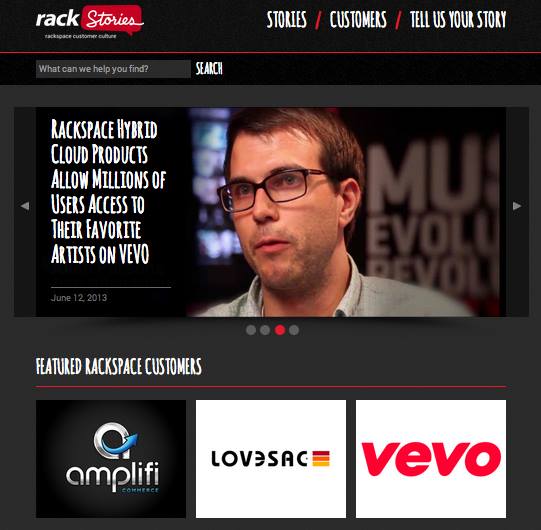 Rackstories houses a comprehensive archive of Rackspace reference customers, making it a breeze to find customer content that is relevant to your business. Each customer has an exclusive profile page, and these pages allow you to find every piece of content crafted for the customer, plus customer-generated content, all hand selected and curated by the Customer Reference team.
"Stories like how Rackspace helps VEVO manage 68 million US visitors per month and serves up 3 billion streams worldwide! Along with how UpCounsel uses Cloud Files and Load Balancers to keep their business online and steadily growing," exclaimed Lew Moorman, Rackspace President, in his Rackstories introductory email. "Rackstories will be a hugely valuable resource for you."
Rackstories is live and ready to use. The customer culture portal is fully integrated with Rackspace.com. Over the coming weeks, more customer stories and materials will be added to the website, so check back often, especially in the EMEA and APAC regions.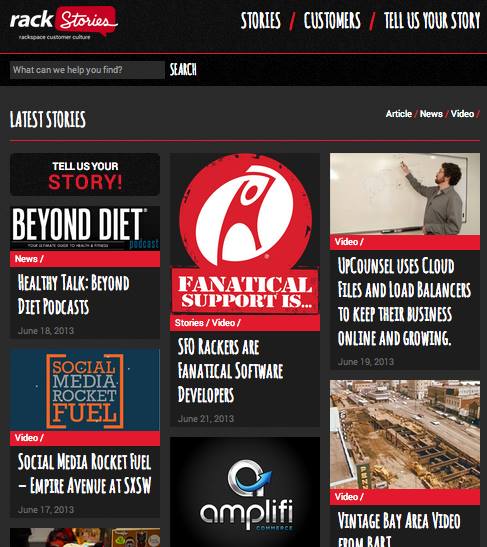 Experience Rackstories for yourself – find a story you like, check out some videos and share them with the world!
For more information on Rackstories, contact the Rackspace Customer Reference Program.